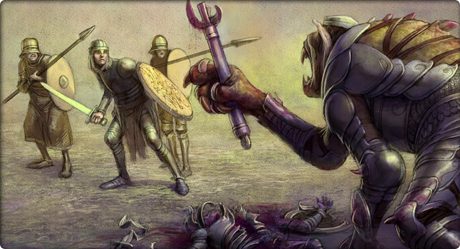 Now Available:
ArtRage 4.5 for Windows & Mac OS X
FREE Update for ArtRage 4 Owners

Don't have ArtRage yet?
4.5 is now available directly from our store!
Get ArtRage 4.5

New in ArtRage 4.5:

64-Bit Support
4.5 comes in 32 and 64 bit flavors for Windows and Mac OS X. Both versions are available from a single license so you don't need to worry about getting the wrong one.

Faster Painting
64 bit processor support makes ArtRage 4.5 faster than earlier versions when you're painting on standard canvases. The extra speed lets it manage larger projects too.

Larger Canvases
64 bit lets ArtRage take advantage of more memory on your system so you can paint on larger canvases if you're aiming for print resolution.

Canvas Grids
Grid overlays provide structural guides laid out on the canvas and reference images for when you want a guide to proportions or to be a bit more precise with your layout.

Live Pencil Tilt
The Pencil now supports tilt while you draw with compatible styluses. Switch between precise tip sketching and broad edge shading without needing to change tool settings.

Interface Updates
We've added manual reordering of swatches and toolbox items, a resizeable swatch drawer on the Pinboard, touch pad gestures on OS X, a font picker, and more!

System Requirements:
Windows: Vista, Win 7 or 8 (Desktop mode required for Windows 8). 32 or 64 bit.

Mac OS X: 10.6 or later, Intel Mac required. 32 or 64 bit.
Note for Windows XP Users: ArtRage 4.5 does not support Windows XP. All ArtRage 4 owners will still be available to download the last version that supports Windows XP (ArtRage 4.0.6) from our Member area.
Languages: English, French, German, Dutch, Spanish, Italian, Japanese, Russian. Manual in English only.

Sample Art: Nick Harris ( http://nickillus.com ) and Sav Scatola ( http://boxy.co.uk ).