Take a look at screenshots and samples from ArtRage 5
Screenshots
ArtRage in action with real artists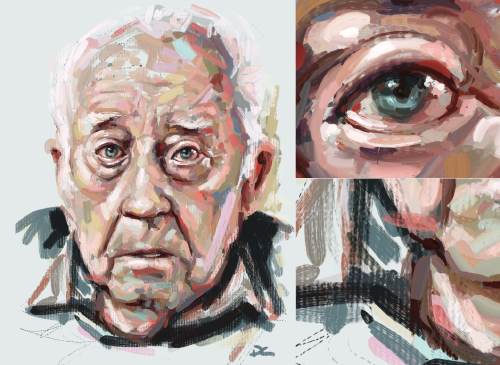 Portrait in Oils
Traditional oil painter Phil Galloway experiments with the Oil Brush in ArtRage
Strong strokes of the oil brush block out the colors and shapes of the face.
Dry brush strokes add texture around the edges, creating an abstract transition from the solid dabs of the face to the texture of the canvas.
Thick paint from the Paint Tube was is worked into the paint with the Palette Knife and Oil brush, creating chunky impasto effects.

Learn more about digital oil painting with Phil Galloway.
---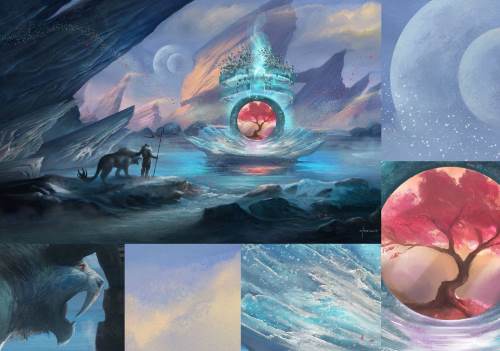 Alien Landscape Using Custom Brushes
A digital science fiction landscape by Steve Goad using custom brushes
This painting, commissioned for the Splash Screen of the product, makes full use of ArtRage 5's digital capabilities, working almost exclusively with the Custom Brush tool to create everything from reflections in the ice to the rose petals drifting across the sky. In this piece, Steve wanted to share the inspiration and creative possibilities he finds in ArtRage.
See more digital art by Steve Goad.
Learn about the Custom Brush and the Brush Designer.
---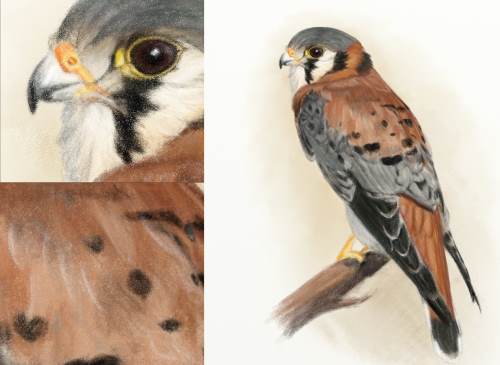 Kestrel Illustration in Colored Pencil
Real world pencil techniques
Realistic pencil drawings are always impressive, and a digital realistic pencil drawing is no exception. The kestrel was painstakingly shaded and blended using real world techniques with the ArtRage 5 Pencil on a single layer with a sketch paper canvas. Each stroke built up color, until the paper was covered in a solid layer of blended pigment. A subtle background wash was added by softening pencil color with a wet palette knife, mimicking a watercolor pencil effect.
---
Check out the art gallery of interface and feature screenshots, along with samples of work produced by users of ArtRage 5.
---
Learn More
Learn more about the features in ArtRage 5 on the
ArtRage 5 Features
page.
Back to Top

›