The release history for the ArtRage for iOS app
ArtRage for iOS is a powerful, intuitive painting package that makes it easy to produce natural looking artwork on your iPad. It is based on ArtRage 3, and includes most of the same traditional tools, and intuitive approach. The interface has been adapted to the iOS platform, and is easy to use with finger or stylus.
Paintings from the iOS app can be easily exported to the desktop version, and Scripts can be played back at increasingly large sizes in order to create larger quality files.
More information about the features can be found here: ArtRage for iOS
ArtRage for iOS can be purchased on iTunes here.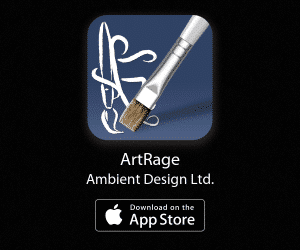 Experiencing Problems?
If you experience a problem with ArtRage let us know using the Support Page. We're happy to work through problems with you and in most cases we can quickly resolve the issue.
Speed issues or crashing can usually be resolved quickly and easily by closing parked apps and rebooting your iPad.
In other cases we can use crash logs generated on your iPad to track down the exact cause of a problem and produce a fix. Many of the fixes listed in this update came about thanks to users who had problems telling us about them, so don't hesitate to get in touch.
Version History 24 Jan 2018 Version 2.3.4 We've solved some problems that could occur when opening the References Panel or using Reference images, fixed a problem that could make the color picker vanish as you start painting as if you were painting close to it, and re-implemented applying Loading values when using Palette Knife Presets. We've also updated to the latest Wacom stylus SDK for updated device and pen support.
2018
ArtRage for iOS 2.3.4
Released 25th January 2017
Changes:
Updated to the latest Wacom stylus SDK for updated device and pen support.
Fixes:
Fixed a crash that could occur when opening the References Panel or using Reference images.
Fixed problem that caused the Color Picker to hide when painting anywhere on canvas.
Fixed Loading not being saved in Palette Knife presets
ArtRage for iOS 2.3.3
Released 8th December, 2017
Fixes:
Fixed issues with restoring an empty gallery from a backup
Fixed issues with the Options menu in fullview mode in the Gallery
2017
ArtRage for iOS 2.3.2
Released 29th November 2017
Features:
Changes:
Updated For iPhone X: We've gone through the app and updated layouts to make sure that everything is in the right place and accessible on iPhone X.
Fixed a crash that could occur when importing reference images on iOS10.
Fixed a crash that could occur when pasting content copied from a hidden layer.
Added ink back to painting titles in the gallery so they're not white any more!
ArtRage for iOS 2.3.1
Released 26th October 2017
Fixes issues with exported PTG files preventing the previous update from installing on iOS11 and improved drag and drop compatibility.
ArtRage for iOS 2.3.0
Released 23rd October, 2017
Features:
iOS11 Files app support for ArtRage files. Note that the Gallery doesn't allow drag/drop at this time as it maintains additional data related to files, but the Files app does list any files exported to iTunes/Files from inside ArtRage and can be used to import via the sharing system.
Drag / Drop Layer, Reference, and Tracing Image assignment from Files and other image applications that support drag. iOS level PTG file thumbnails and Quicklook support.
Updated sharing system on both iOS10 and 11 that allows import from any app that supports file sharing and export to any app or service on the device that can accept appropriate files from ArtRage including iCloud Drive. This fixes a problem that prevented the app interacting with Dropbox, Facebook, and Twitter after recent updates.

Fixes & Tweaks:
Added wait indicators for longer import operations.
Added a Pressure slider to the ink pen.
Adjusted the Tool Settings panel so that it can scroll on smaller devices.
Fixed a bug that prevented the precise colour picker from functioning correctly when Tint/Tone mode was active.
Fixed a bug that caused the screen to slide up when editing the size of paintings in landscape mode on iPad devices that had a hardware keyboard attached – When the keyboard does not overlap the edit, it not longer slides out of the way.
ArtRage for iOS 2.2.2
Released 31st August, 2017
Copy and paste fixes.
Fixed some minor UI issues in tracing image and pop up options in the settings panel.
Adjusted Palette Knife pressure to match desktop behaviour.
Further iOS11 support tweaks.
ArtRage for iOS 2.2.1
Released 24th August, 2017
A fix for the layer opacity slider not updating the layer visually.
A fix for tool blend modes causing problems with the Tool Settings Panel.
A fix for the color sampler failing to trigger sample in some combinations of screen orientation / canvas size.
Sundry fixes for problems running on the iOS11 beta.
Fixes for misc issues that came in from devices with reporting turned on.
ArtRage for iOS 2.2.0 Released. 16th August, 2017
'ArtRage for iPad' is now a universal app for iOS devices running iOS10 and later. The old iPhone app has been discontinued, and existing iPad users can install the app on their iPhones as well for free.
ArtRage for iOS 2.2.0
Changes
Now a universal app for iPad and iPhone.
Behind the scenes improvements to the export and import options.
Adds 3D Touch pressure sensitivity support for iPhones.

ArtRage for iPad is now a universal iOS app with all painting tools & features on the iPhone & 3D Touch support
ArtRage for iPad 2.1.10 and 2.1.11
Released May 2, 2016
Added support for the Adonit Pixel stylus
Added support for upcoming stylus models
2016
ArtRage for iPad 2.1.7
Released 7th November, 2016
Fixed a crash that occurred for some users when entering the gallery on iOS8 or 9
Fixed a problem that could cause the save prompt on iOS8 to appear too small to hold its various buttons
Fixed a bug that causes Page View painting previews on iOS10 to sometimes appear with a small preview based on collection view caching
Fixed a bug that could prevent the restoration of backed up galleries
ArtRage for iPad 2.1.6
Released 18th October, 2016
Updated to the latest Adonit SDK for current stylus support
Fixed a crash that could occur when renaming files in the Gallery using iOS 10
Fixed some transition animations that weren't working properly under iOS 10
ArtRage for iPad 2.1.5
Released 20th May, 2016
Added a calibration slider on the ArtRage Settings page for Apple Pencil users. This slider allows you to adjust how hard you need to press to get full pressure strokes with the Pencil. Increase the value to increase the amount of pressure required.
ArtRage for iPad 2.1.3
Released 29th January, 2016
ArtRage for iPad 2.1.2
Released 13th January, 2016
Eliminated some blobs that could occur at the start of strokes made using the Apple Pencil if 'Tap and Hold Color Sampling' was turned off.
Removed a gap between the starting input point and the start of the visible stroke when 'Tap and Hold Color Sampling' was turned on.
Fixed a problem that caused square canvases to appear at the wrong orientation in some iPad orientations.
Fixed a problem that allowed canvases of too large a size to be loaded on some devices.
Fixed a problem that prevented three finger and numeric entry tool resizing being recorded correctly in scripts.
2015
ArtRage iPad 2.1.1
Released 31st December, 2015
This update includes Preset Picker changes to address some problems we've seen reported when selecting tool presets.
ArtRage for iPad 2.1 for iPad Pro Released. 14th December, 2015
ArtRage for iPad 2.1 Updates
Updated for iPad Pro with larger canvases and tools, added iOS9 Split screen support, and hooked up the Apple Pencil's Tilt and Pressure features to further enhance the realism of our virtual painting tools. 2.1 also includes a large number of performance and memory enhancements along with fixes and other new general features.
iPad Pro & Apple Pencil Support:
Added Pressure and Tilt support for Apple Pencil and enhanced various tools to simulate the angle of the virtual brush head.
Increased maximum canvas size on iPad Pro to 4096 x 4096 and added presets for 4k resolution.
Increased the maximum size of various tools on iPad Pro for the new canvas sizes.
Features:
Added support for Split Screen functionality to the app.
Added Paint Loading to the Palette Knife tool in Flat and Edge modes.
Added the option to rotate the canvas, along with an optional toggle to limit rotation to 15 degree increments.
Added the option to have popup panels (Layers, Settings etc.) auto dismiss when you start painting.
Added non-uniform scaling to Layer Transform. Use the menu in the Transform view to turn on Stretch then scaling from the edges of the object will scale on that axis only. Scale from the corners when in this mode to scale uniformly.
Added the ability to 'Hide Upper Layers' in the Transform view.
Added a recovery button when the toolbar is hidden.
Added a visual selector for Wacom Stylus hand angles.
Improved stylus support across the board to remove erroneous gestures, add touch rejection, and support the latest iteration of SDKs including coalesced input point values.
Fixes & Improvements:
Swept through the app hunting memory leaks and killed a number that may have caused crashes.
Fixed a number of problems that could cause Undo to stop working when partial strokes were processed.
Completely replaced the canvas and gesture handlers to improve reliability and increase functionality.
Made some adjustments to the trigger point of background save on leaving the app to help avoid situations where a user closing the app by double tapping home and swiping it up would prevent save.
Added an optional warning on restart to prompt if the app was closed before save completed.
Added a warning when memory is low.
Fixed a bug that caused changes in the color picker to reset Metallic back to 0%.
Fixed a rare bug that could cause the toolbar interface to load twice in some launch situations.
Fixed a bug that prevented Pastel presets from updating the Wax/Chalk value.
Ensured that the toolbar is always displayed when returning to the app from the background.
ArtRage iPad 2.0.2
Released 28th October, 2015

Fixes & Improvements:
Fixed a bug that prevented import from Photos or the Camera when using ArtRage in languages other than English.
Prevented renaming a file in the gallery using the name of an existing file.
Improved Pogo stylus handling to make gestures easier.
Fixed Ink Pen rotation, which wasn't working.
Fixed Ink Pen rotation, which wasn't working.
Made sure files with 'JPEG' suffixes can be imported.
Made sure the sampler preview rotates correctly for the canvas.
Implemented performance and memory tweaks for background saving, preset pickers, and colour picker operation.
ArtRage iPad 2.0.1
Released 16th October, 2015

Fixes & Improvements:
Fixed Pogo stylus crashes on starting the app in iOS9.
Fixed Adonit Jot Touch 4 styluses not creating strokes.
Fixed erroneous zoom events that could occur when using an Adonit Pixelpoint stylus.
Fixed an issue with gallery folders that used file dividers in their names.
Fixed a crash that could occur when selecting a preset.
Re-added missing Canvas Lighting toggle in the Layers menu.
Fixed an interface crash that could occur in the gallery after finishing a file import on iOS9.
Fixed Tool settings sliders not correctly applying changes made using the numeric entry.
ArtRage for iPad 2.0 Released. 6th October, 2015
ArtRage for iPad 2.0.0 Updates
New Tools:
Glitter Tube: Sprinkles particles of various shapes.
Gloop Pen: Creates expanding wet strokes with a variety of properties.
New File-Sharing Support:
Support added for Adobe Creative Cloud, Dropbox, DeviantArt Sta.sh.
Upload / Download files using available services.
Import and export Layers using available services.
Load Tracing Images and Reference Images from available services.
Load ArtRage and Image files from Mail, Photos, iTunes File Sharing.
iOS support for Facebook and Twitter added.
Supports iOS Copy/Paste.
Canvas:
Transparency support added.
Custom canvas presets can now be created.
Custom canvas size presets can now be created.
Interface:
Redesigned and rebuilt for current iOS.
Significantly improved the speed of panel responses.
Significantly improved the speed of layer transformations.
New three finger tool size gesture preview for accuracy.
Tap / Drag / Release gestures for tool sizing and color picking added.
Color Sample Lens functionality added.
Precise color picker added with numeric selection of color values (HLS/RGB).
Added quick access to New and Export functionality from the canvas view without needing to go to the Gallery.
Preferences shifted i the application.
Gallery:
Paintings can now be sorted in to folders with folder management tools available.
Gallery layout changed to a grid layout with page view optional.
Resource Pickers:
Custom resources can be sorted in to categories in the picker.
New Size presets allow easy recovery of favorite canvas sizes.
Custom canvas presets can now be stored.
Bluetooth Stylus Support:
Updated all stylus support to current standards.
Added support for Adobe Ink.
Added support for current Adonit models.
Improved support for current Wacom models.
Improved support for Pogo Styluses.
General:
64 bit support.
Improved memory handling and stability.
Improved background task processing for long operations such as file sharing.
2014
ArtRage iPad 1.6.5
Released 5th September, 2014
ArtRage iPad 1.6.4
Released 21st June, 2014
Fixed a problem that prevented Korean characters being displayed on iOS7
ArtRage iPad 1.6.3
Released 13th March, 2014
This update should resolve a problem that caused crashing when using the airbrush tool on iOS 7.1.
Supports iOS 6 or later
2013
ArtRage for iPad 1.6.2
Released 24th September, 2013
Bluetooth stylus support was preventing the app from launching on iOS4.
Some text items in the interface were not visible on iOS7 when using a Retina display.
ArtRage for iPad 1.6.1
Released 12th September, 2013
This build resolves a problem with the colour sampler that could cause the interface to become unresponsive after sampling with Tap and Hold sampling was turned off.
ArtRage for iPad 1.6.0
Released 2nd September, 2013
Update Note: If you are updating to 1.6 from 1.4 or earlier, please shut down ArtRage fully and restart your iPad before using it the first time. This helps to avoid speed problems in first time setup that could cause ArtRage to shut down before fully opening the first time you launch it, and makes sure application preferences are clean for the new version.
New Features:
Enhanced Stylus Support: 

ArtRage now supports the Wacom Intuos Creative Stylus and TenOne Pogo Connect Stylus in addition to the original model Adonit Jot Touch.
Optional Tap and hold color sampling: 

Due to requests from users we've made the tap and hold color sampling system optional. By default this is turned OFF. If you would like tap and hold to trigger the color sampler open the Settings app on your iPad and turn the preference on in the ArtRage section.

Fixes:
Airbrush Stroke Issues: We have replicated and fixed a problem that could cause odd brush stroke behavior or harsh edged non-undoable strokes to be generated if changing color or accessing other interface elements rapidly after completing an airbrush stroke. This problem was most visible when the airbrush was in Autoflow mode. Thanks to the users who put in the time to help us track this one down!
Changes to Save: We've made some changes to the save system to improve save speed. This may also assist in the rare cases we've seen reported where a file has failed to save properly.
Import Popover Dismissal: We've fixed a problem that could cause the Import from Photos or Camera popup to remain visible in the Gallery when accessing other menu items without completing the import operation.
Landscape Mode Drag: We have made some changes to stroke handling to fix a problem that could cause interface panels such as the tool picker and color picker not to get out of the way when you paint close to them.
Color Sampler Hiding: Fixed a rare situation that could result in the color sampler being hidden during a sample operation if you dragged quickly enough up and over it.
ArtRage for iPad 1.5.1
Released 7th August, 2013
New Features:
Added touch and hold color sampler access. Tap and hold still on the canvas to trigger color sampling. Once the color sampler curve appears above your finger you can drag around to sample color from the canvas. Release the drag and the tool you had previously selected is restored.
Adjusted panel behavior to prevent rogue paint dabs: To close a panel such as settings or samples just tap on the canvas. No paint event is processed until you do a second tap and drag.

Fixes:
Fixed a problem that could cause landscape paintings not to fit screen dimensions by default when created.
Adjusted gesture handling during stroke completion to prevent rogue gestures and paint strokes being generated if entered while a previous stroke is being processed.
Fixed a problem that caused script export not to be available in the Export menu when running in Korean.
Fixed a problem that could cause the canvas preview to be incorrectly positioned when first opening the New Painting dialog.
1.5.1: Fixed a problem that prevented presets being visible for users who updated from a previous version of ArtRage.
1.5.1: Fixed a problem that prevent Layer Blend Mode and Edit buttons being visible on the relevant panels for non-Retina iPad users.
2012
ArtRage for iPad 1.4
Released 20th March, 2012
iOS 3 Note: ArtRage for iPad 1.4 works on iOS 4 or later. Due to a problem uploading the original 1.3.2 update, some iOS3 users may have been able to download it and found that it did not work. We are currently testing potential fixes that will allow us to do a final update for iOS3 to resolve it, after which time we will unfortunately be dropping iOS3 support.
Changes:
Added full resolution interface for Retina iPad users, everything should be crisp and clear now.
Fixed a problem that caused text entry boxes to have black text against a dark background when entering percentage values for sliders.
Fixed a problem that could prevent cancellation of an attempt to link to a dropbox account when uploading to Dropbox.
Adjusted help system buttons to allow dynamic sizing to fit contents when localized strings were too long to fit their original length.
Prevented downloads on iOS3 while we work on a final iOS3 compatible build.
iPad 1.3.1
Released 5th January, 2012
Adds French, German, Japanese, and Korean localisations to the product.
Fixes a bug that prevented Layer Opacity changes from being recorded by scripts.
2011
ArtRage for iPhone 1.0 Released. 9th December, 2011
ArtRage for iPad 1.3
Released 6th October, 2011
New Features: 
Upload to deviantART Stash: Upload your images directly to your deviantART account using the new sta.sh system. Details on sta.sh can be found here: Sta.sh – Enhanced Publishing Platform
Upload to Facebook: Upload your images directly to your Facebook Photo Album.
Upload to Dropbox: Upload painting files to your Dropbox account.
New Export Options: Export PNG or JPG to the iTunes shared file space, PNG, JPG or native PTG via Email.
Canvas Rotation: Added canvas rotation to the gallery so you can adjust the orientation of your paintings if you find you've been painting upside down…
Gallery Interface: Simplified the Gallery Interface to collect all export functions in to a single menu and clarify general operation.
Canvas Settings Interface:

 Adjusted the Canvas Settings interface to make it clearer. 

Fixes & Improvements:
Increased the hit area of the Sampler toggle to make it easier to tap.
Menus should no longer resize when entering a sub menu, unless they need to expand.
Removed script recording for orientation changes and UI show/hide to improve the appearance of playback of scripts on desktop machines.
Fixed a potential crash when importing multiple paintings to the Photos app in quick succession.
Added layer transparency changes and three finger swipe undo operations to scripted recording.
Improved feedback for large export operations so that you know when you're about to upload huge files online or send by email.
Fixed a bug that could cause panels to lock partially transparent but inactive if you select an option from them quickly while they are fading (eg. select a preset then quickly select a second preset before the panel has finished vanishing).
ArtRage for iPad 1.2
Released 10th August, 2011
New Features:
ArtRage Script Recorder. With 1.2 you can record your paintings and play them back at higher resolution on a desktop machine using the Script Recorder. You can turn the Recorder on when creating a new file, and every stroke you paint will be recorded to a script file. Script files can be exported via iTunes or sent directly by email to play back in a desktop version of ArtRage.
So why is playing back a script at higher resolution better than scaling up the whole painting? When you scale up a finished image the quality will generally be reduced because the app that's scaling it doesn't know what detail goes in between the pixels that make up the original. When you play back a script however, the entire painting is recreated stroke by stroke at a larger size, so the individual paint strokes retain their original quality. It's as if you were painting it again from scratch, having chosen a larger tool and canvas.
ArtRage Script Files exported from ArtRage for iPad are compatible with ArtRage Studio and Studio Pro.
PNG Export: As well as emailing and saving copies of your paintings to the Photos app you can now export PNG copies direct to the shared file space in iTunes.

Improvements & Fixes:
Updated the Help section on 'Files' to cover scripts and improve explanations of how to handle files in ArtRage.
Added troubleshooting tips to the Help section for users who experience speed problems: Many speed problems can be solved very simply by following a couple of easy steps. See the Speed & Memory section in the help files!
Adjusted Import Image to Layer to scale to fit the current canvas on import.
Fixed a problem importing images larger than 1440 x 1440 to layers and references. All forms of image import should now correctly handle images of any available size.
ArtRage for iPad 1.1.6
Released 7th June, 2011
Fixes:
iOS 3.2 users can now use reference images, tracing images, and imported photos again.
Imported photos on iPad 2 should no longer crop themselves incorrectly in the new canvas.

New Features:
iPad 1 & 2: The ArtRage Painting File format (PTG) has been registered to allow you to load paintings in to ArtRage from other applications on your iPad that support file opening (Mail, for example).
iPad 2: Camera support has been added to Importing Images, Importing to Layer, load Reference Images, and Tracing Images.
iPad 2: Maximum image size has been increased to 2048 x 2048.

Adjustments: 
Adjusted the Back to Gallery button menu options. You can now save and save a duplicate directly from that menu, or return to the Gallery (which will prompt you if you need to save changes).
Changed how the painting orientation system works, to ensure that the painting is upright if its aspect matches your device orientation, and at a reasonable angle if it doesn't.
Added a color sample under the finger when selecting colors in the color picker so you can see the resulting color more easily.
Turned of Smoothing on the Inking Pen and Precise Pencil by default to prevent pauses when calculating strokes.

Fixes: 
Fixed a bug that caused the Wet mode Palette Knife blender to be slower on iPad 2.
Fixed a problem that could have caused a crash during save in some situations.
Paintings should no longer flip upside down when resetting scale/position with a two finger tap.
Fixed a problem that could cause paintings imported from the desktop version to require a tool selected before they could be painted on.
Fixed a problem that could cause folders imported to the gallery to display as invalid paintings.
Fixed a problem that could cause issues zooming to the corners in landscape oriented paintings.
Fixed a bug that could cause grey to be introduced in to blended results when using the wet blender near the edges of a stroke against a transparent background.
ArtRage for iPad 1.0.5
Released 28th February, 2011
Enhancements:
Significantly enhanced the speed of canvas zoom and pan.
Memory Warning: ArtRage uses a lot of memory to track properties of your paint such as its texture on the canvas, how wet it is, and other properties of physical media. This means it can sometimes be easy to run low on memory. A warning prompt now pops up on the ArtRage toolbar when your iPad detects memory is low, and the Help guide built in to the app gives you some steps you can take to help in these situations. Users who have experienced crashes are probably seeing the app shut down by the OS when memory runs out, this warning will help you spot when there might be a problem, and save your work if you want to restart.
'Show Toolbar' toggle button that appears when the toolbar is hidden. Some users reported that they lost their toolbar, this is probably due to accidentally tapping with three fingers (the toolbar show/hide shortcut). The new toggle makes sure that if you have hidden the toolbar you know how to get it back.
Save Prompt (turned on/off via your iPad's Settings app) – If on, a quick Save button pops up on the toolbar every 10 minutes if the painting contains unsaved changes, so that you can quickly save your work.
Improved painting orientation detection to avoid the painting appearing in the wrong orientation when opened.

Other Changes:
Fixed a problem that prevented Flip Horizontal working correctly in layer transformations.
Improved painting placement in the gallery to reduce instances of paintings appearing in the wrong position.
Fixed a problem that prevented ArtRage saving color samples when closed from the multitasking bar.
2010
ArtRage for iPad 1.0.4
Released 3rd December, 2010
New to 1.0.4:
Support for printing from iOS4.2.
Support for iOS4.2 Multitasking: ArtRage will now park itself in the background when switched away from, and return when re-launched. The splash screen may appear briefly while the interface reconstructs.
ArtRage for iPad 1.0.3
Released 9th November, 2010
Quick access color sampling via a tool toggle.
User definable canvas sizing when creating new files (1440 x 1440 max).
Zoom level indicating during zooming.
Background color customisation.
Feedback improvements on a number of user interface items including current active preset highlights.
Significant enhancements to the stability of the product and memory handling.
Improvements to Multitouch gesture handling after Save & Continue, fixing a problem that prevented gestures happening in certain areas of the screen.
Corrected a problem that could cause crashes when using the Tint/Tone picker.
Fixed a problem that could cause the name of a painting to change after editing canvas settings.
ArtRage for iPad 1.0.1
Released 5th October 2010
The 1.0.1 update improves the stability of the product for users who were experiencing crashes, particularly around the gallery and canvas panes.
Corrects a blending problem with the oil brush at 0% loading, and adds the ability to save your work without leaving the canvas.
 ArtRage for iPad Released: 28th September, 2010