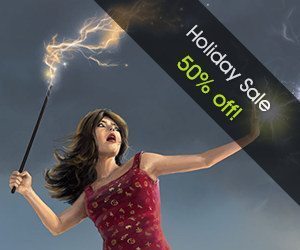 ArtRage – Holiday Sale – 50% Off!
Natural painting tools and powerful utilities for everyone from Pros to Beginners. Get 50% off ArtRage 4 or ArtRage Lite for your desktop computer now and you'll pay less when ArtRage 5 comes out in 2017!

( Windows & Mac OS X )
Realistic natural media features
Traditional art tools
Non-intrusive design
Suitable for all ages and skill levels

ArtRage Lite Edition

iPad App

Android™ App

iPhone App
Natural Painting Software
ArtRage gives you real world painting tools on your computer in a stylish, easy to use environment that lets you get down to the process of creating without digital distractions.
Image credits: The header images were painted in ArtRage 5 by Sav Scatola, also known as Boxy. He is one of our beta testing artists for ArtRage 5 and was our first featured ArtRage artist!
Rediscover Digital Art

Learning to paint
Learn how to start painting, drawing and inking with the watercolours, oils, pencils, and other tools in ArtRage. You can discover tips and tricks to apply both for your real world art and in our digital software.

Try ArtRage
Check out the features of ArtRage, with our full featured demonstration version. No risk. No obligation. You can try our ArtRage software for free on PC or Mac with just a few limitations.

All Products
Our store provides purchase links for new customers and information for owners who are eligible for discounts on product upgrades.
Painting software created for and shaped by real artists!
Combine real world techniques with powerful digital editing tools!
ArtRage Community

Educational Software
Our digital painting apps allow students of all ages to learn more about modern technology, while also expanding their traditional art skills.

Featured Artists
Check out our collection of featured artists to see the astonishing paintings they are creating with our ArtRage program.

Art Forums
Our art community forums are some of the friendliest around. Join in the conversation, share your art, and swap painting tips and tricks with other artists.
Suitable for all ages and skill levels (kids to professionals).
Learn and develop real art, without the mess.