Paint and draw with natural tools on your computer
What Is ArtRage?
Ever wanted to try oil painting but not had the equipment and been worried about the mess? Or perhaps you're an artist with a computer but no desire to learn complex new tools in a digital environment or a digital artist wanting a touch of real media?
You can paint with thick oils that smear and blend naturally, draw with pencil and chalk that reacts to the texture of your canvas, and get realistic results without needing to resort to post-processing techniques. It all happens automatically while you paint.
ArtRage is a computer painting package with a difference. It's designed to bring out your creative side with a set of natural painting and drawing tools that simulate familiar, real world tools. This means you can get straight in to painting without needing to re-learn how to do it.
The advanced paint simulation is hidden behind an easy to use interface that gets out of the way while you paint and gives quick access to the things you need for your current task. It's like an easel: Put the tools you want on your utility shelf and leave the rest in their box for another day.
Who can use ArtRage?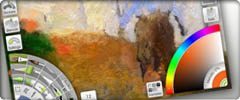 Because ArtRage is designed to work like real painting and drawing tools, it can be used by almost anyone. The interface is easy to understand and gets out of the way while you are working so you don't spend time configuring panels when you could be painting. What's more, it's fun to smoosh around paint and blend colors right there on the canvas.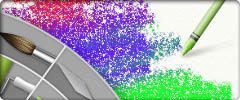 Beginners: If you're new to painting and drawing, you can take advantage of the Tracing Image system to import a photo as a guide while painting. Let ArtRage pick colors from the image for you and you can focus on your brushwork and developing your skills. Tools like Glitter or Stickers make creating craft projects on your computer easy and fun.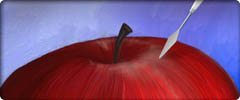 Teachers: If you're an art teacher, ArtRage can be a great bridge between working on paper and working on a computer. Take the skills you've taught on paper and see how those work on the computer before branching out and exploring more technical features like layers. The focus on natural creativity in ArtRage frees students from fiddling with pixels and lets them develop their art.
Learn more about using ArtRage as educational software.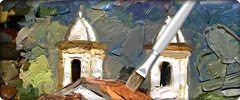 Traditional Artists: If you're a traditional artist who has avoided digital art tools, you'll find ArtRage pleasantly familiar. Rather than spending time learning a whole new set of tools and methods, you can take many of your familiar techniques and work with them inside the software. Lay down blobs of color and blend them with a palette knife, and work with settings that reflect how you work with real pigment. You can even pin reference images to your canvas while you work. Prototype your paintings in ArtRage without needing to spend money on canvas or pigment, and use your computer as a companion to your traditional work rather than a replacement.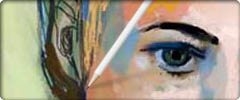 Digital Artists: If you're a digital artist who wants to add some natural paint to your images, you can still work with layers, blend modes and other digital tools. ArtRage offers selection tools, flood fills, cloning and text to make the workflow easier. Support for PSD images imported and exported with their layers, groups, blend modes, and text layers intact makes it easy to use ArtRage alongside your other applications.
What kind of computer do I need?
There are versions of ArtRage for desktop computers and laptops running Windows or Mac OS X, for the iPad, and for the iPhone. The Windows / Mac version of ArtRage runs on most computers, you don't need a high powered machine or fast graphics card. If you are wondering if your computer can handle ArtRage, check out the Demo version.
Because the interface gets out of the way as you work, the size of your screen isn't as important. You can dismiss the entire interface with a single mouse tap if you want even more room. ArtRage has been additionally optimized to give you access to as many important features as possible in a very small area of the screen.
While using a graphics tablet with ArtRage makes painting feel that much more natural, you can paint happily with a mouse and let the software simulate some of the dynamics of natural strokes, and ArtRage 4 even supports Stylus Recognition where available, allowing it to remember which tool you had active for each stylus you use.
If you have a touch screen you can work directly on the canvas to further heighten the experience. If you have a Multitouch screen you can use familiar shortcuts to navigate your canvas and control the interface.
For more ArtRage Information…
If you still have questions about ArtRage, check out the Features page, or feel free to ask on our Forums where there are many users who would be happy to let you know about their experiences with the product.