Try out the features of ArtRage before you buy
Free ArtRage Downloads & Trials
We believe in giving users a chance to try our software out before purchasing, especially if you aren't sure if it will work properly on your particular system. Offering software trials can be a little complicated, and we're not fond of ads, crippleware or nagware, so we've tried to strike a balance between offering an effective demo and putting ourselves out of business. We hope you enjoy playing with ArtRage!

Desktop Software (Windows & Mac OSX)
ArtRage 5 Demo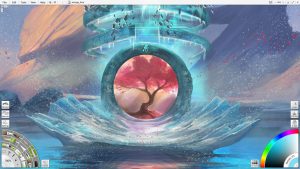 Try the desktop demo version of ArtRage 5 for FREE, with no signup, expiry, risk or obligation.
We offer a free demo version of ArtRage 5 for Windows and Mac OSX. The ArtRage 5 demo version does not allow you to save, export, or record scripts. All other features are fully functional, and any custom resources you create will be available to the full program if you choose to purchase it. There is no time limit on the demo software, so you can take your time to explore the tools without worrying about a deadline!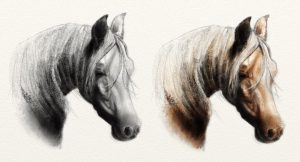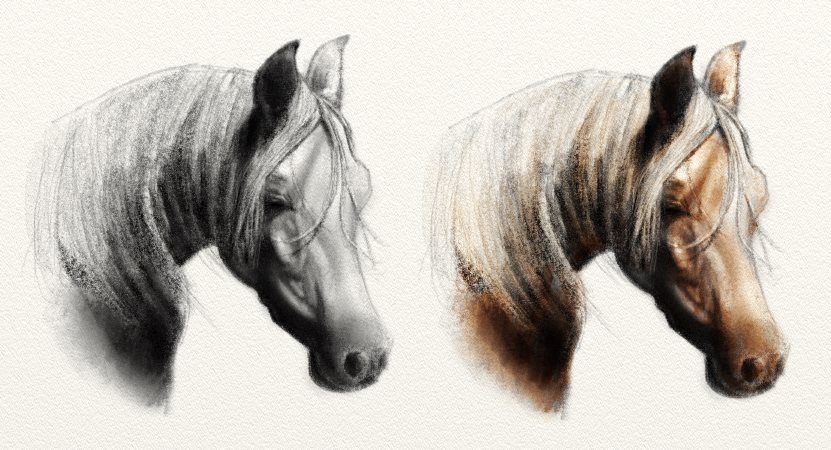 Languages: English, French, German, Dutch, Spanish, Italian, Japanese, Russian.
You can learn more about ArtRage 5 and compare the features of our different editions here. Get help using ArtRage 5 in the online manual.
If you experience any technical issues, we are happy to help troubleshoot before you purchase. After purchasing, you will need to download and install the full version of ArtRage separately, and you can uninstall or keep the demo, as you prefer.
ArtRage Lite
ArtRage Lite does not have a free public trial available at the moment (we recommend using the ArtRage 5 demo to test compatibility), but the full program is included as free software with third party hardware, for example, the Wacom Intuos Draw graphics tablet.
An exclusive ArtRage Lite Trial is included with the Lenovo Yoga Book. The trial does not expire, but offers limited save and export options (maximum size 1280×1024 pixels, PTG or JPEG only) and some minor limitations on custom resources.

Mobile Apps
ArtRage for Android: Samsung Galaxy Gifts
ArtRage for Android is available as a free download from Galaxy Gifts on certain Samsung devices. Distribution is decided by Samsung, so we have no control over whether it is available for your device, but it should be available for most phones and tablets in Galaxy Note range (see below for the full list).
This is the full Android app and exactly the same as the paid versions. The only restriction is that the app download is linked to the device, not your app store account, and cannot be downloaded to multiple devices.
Available on the following devices in the Samsung Galaxy range through the Galaxy Gifts/Galaxy Essentials premium app bundles:
Galaxy Tab S2
Galaxy Tab A 9.7″ with S-Pen
Galaxy Tab A 9.7″
Galaxy Tab A 8″
Galaxy Note 5
Galaxy Note 4
Galaxy Note Edge

To download the app: Open Galaxy Apps and look along the top of the homepage for the 'For Galaxy' tab. Galaxy Gifts will be listed on that page, then you just browse until you find ArtRage.
You can learn more about ArtRage for Android here.
ArtRage for Android: Oil Painter Free
ArtRage Oil Painter Free is an Android app that lets you paint in digital oils. It's a very simple, easy to use, app that lets you jump right in and start having fun with paint! It is aimed at people who just want to check out our oil brush, or fingerpaint without worrying about a 'real' art app.
You can download this paint app from the Play Store and the Amazon App Store: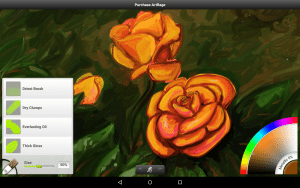 ArtRage Oil Painter Free offers:
Four oil brush presets
JPEG Export and saves PTG files compatible with other editions of ArtRage
One layer with ArtRage's default textured canvas
Included manual
ArtRage's unique live paint simulation and color mixing

You can learn more about Oil Painter Free here.
System Requirements: Android 4.0+, 320 density pixel screens (tablet devices and medium to large phones)
Languages: English, German, Spanish, French, Japanese, Korean, Portuguese, Russian, Vietnamese, Chinese (Simplified and Traditional).
iOS
We do not currently have a trial app of any kind for iOS.
Thank you for trying Ambient Design software.

More Information

Discover ArtRage 5
ArtRage is a powerful, intuitive painting package that makes it easy to produce natural looking artwork on your Computer, iPad and iPhone.

ArtRage 5 Features
ArtRage 5 contains natural painting tools like oils and watercolor, sketching tools like pencils and ink pens, and utilities to make painting easier.

See It In Action…
Take a look at a gallery of interface and feature screenshots, along with samples of work produced by users of ArtRage.

Here you can find an online manual with instructions on how to install, activate, and use your copy of ArtRage. This is for the full version, but can still apply to the demo (you don't need to activate).
If you require any support when using or attempting to install ArtRage, or technical questions relating to the product and its features.
Interested in making the most of ArtRage and exploring it's many features? Try your hand at some ArtRage tutorials.