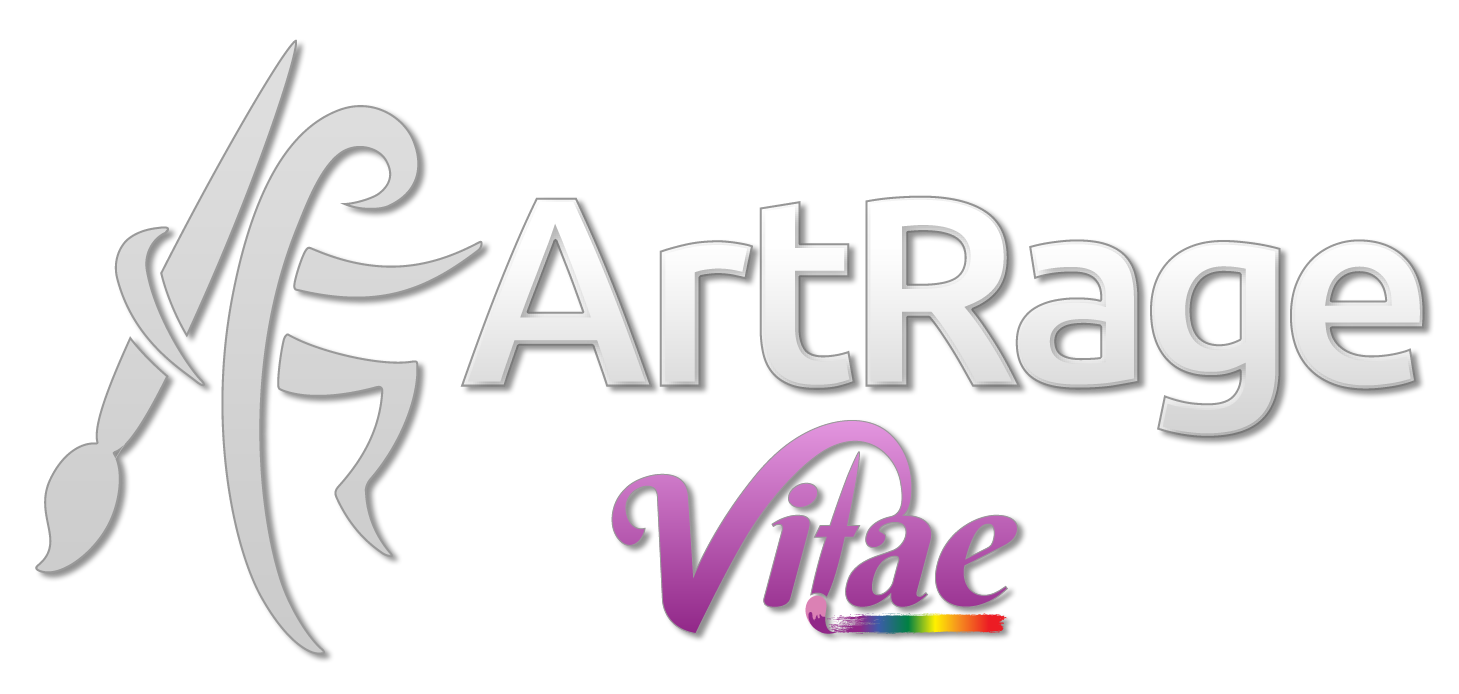 (Think of it as, you know, ArtRage 7)
ArtRage Vitae (Win/Mac) – Full Feature List.
This list contains all of the features available in ArtRage Vitae, along with a description of some of the ways these features work. If you are an existing user of ArtRage, you can view
just the new feature list here
.
---
Tools & Properties:
Realistic Painting Tools:
Oil Brush
Watercolor
Airbrush
Palette Knife
Paint Tube
Paint Roller
Paint blends on the canvas to create color variations based on how much paint is on the brush and how much is on the surface.
Paint can be set to run out over time on the brush head to create realistic fading.
Smear thick paint to spread it out over a larger area.
Watercolors blend together to create delicate gradations.
Drawing Tools:
Pencil
Ink Pen
Pastel / Crayon / Chalk
Eraser
Marker Pen
Apply automatic Smoothing to Pencil and Ink Pen strokes.
Apply automatic Tapering to Ink Pen strokes.
Utility Tools:
Flood Fill
Color Sampler
Cloner
Text Tool
Selection Tool.
Fill with solid color, gradients, or patterns.
Fill is gap-tolerant and can be set to ignore small gaps in your line-art
Edit gradients with a powerful designer tool.
Sample colors at exact points, or from an area around the sampler.
Apply text in different fonts and formats.
Create selections in Circle, Rectangle, Polygon, Freehand, and Painted modes.
Build selections using Add, Subtract, Difference, and Exclusion apply modes.
Wand Selection can also be set to ignore small gaps in selected areas.
Special Effect Tools:
Glitter Tube
Gloop Pen
Sticker Spray
Choose the shape and color behavior of sprinkles from the Glitter Tube.
Create textured surfaces by sprinkling glitter repeatedly in a single area.
Spray images on to the canvas from a Sticker Sheet based on a wide range of control parameters.
Move, rotate, scale, and delete every sticker independently if required to adjust the result of a spray.
Create wet blending strokes with a variety of blend properties using the Gloop Tool.
Custom Brush Tool:
Create your own custom tools with a wide variety of options.
Choose from options to control the shape, stroke properties, color, and depth of the paint.
Assign your own image brush heads and texture images then control how they move and scale with the stroke.
Adjust the shape of the stroke with smoothing, jitter, and other properties.
Control how color is picked up and blended by the brush head.
Assign depth to the paint to create thick strokes of any shape.
Use any Custom Brush shape as an Eraser tool.
Store your favorite settings as Presets to create your own library of paint brushes.
Tool Settings & Presets:
Each tool features a wide range of tool settings reflecting their real world equivalent, providing high levels of customization.
Save your favorite settings as Presets.
Comes with a wide range of default Presets representing different varieties of tool.
Color Tools:
Color Pickers:
Work with a natural Color Picker that provides a variety of HLS and RGB modes.
Compact Color Picker stays at the bottom right of the Canvas and is small enough to remain while you paint.
Tint/Tone Picker provides traditional artistic color selection.
Precise Color Picker allows you to set precision color values via sliders.
Custom Color Picker allows you to load an image to use as a source for the standard Picker.
Complementary Colors:
Turn on Complementary Colors in all types of Picker to display complements for your current color.
Select complements or return to the previous color with a single click.
Complementary modes include Linear, Triadic, Tetradic, Analogous, and Split Complements.
Other Features:
Real Color Blending mode causes paint to blend in a traditional realistic manner rather than digital RGB mode.
User-defined color-blending profiles for different types of medium.
Apply Metallic values to colors to create reflective paint that blends with normal paint.
Store colors in Color Samples for later use.
Name individual Samples and store them in sets.
Direct Hexadecimal color values can be input and copied from the colour picker.
Canvas Properties:
Canvas Settings:
Create canvases in pixel sizes or by using a detailed Print Size tool.
Customizable grain selection creates different textured surfaces.
Customizable pattern selection allows for detailed coloring on the Canvas.
Adjust the angle and intensity of lighting on the Canvas.
Canvas Metallic surface selection.
Realistic canvas texturing means that your painting is lit like a 3D surface, see the texture of your bristles and painting surface as you paint.
Canvas Presets:
Store settings in Presets for ease of application later.
Assign a Preset as a default Canvas for future paintings.
Comes with a wide range of default Canvas presets.
Other Features:
Canvas Mover panel allows easy positioning of the canvas.
Rotate and zoom the canvas freely.
Quick Flip the canvas horizontally or vertically to check your work by holding down a single key.
Tile the canvas horizontally and vertically for seamless painting across the edges of the canvas.
Real World Painting Aids:
Stencils & Rulers:
Add Stencils to the Canvas to block out areas and prevent paint being applied.
Each Stencil can be moved, rotated, and scaled independently.
Stencils stack like real objects on the canvas.
Use the edges of Stencils to draw precise lines, like running a pencil along a ruler.
A customizable straight line Ruler allows you to measure size on the Canvas.\
Create your own custom Stencils.
Reference Images:
Import images to pin to the Canvas as References for guiding you while you paint.
Scale, rotate, and position References however you wish.
Sample color from References for painting.
Scrap References allow you to pin a small canvas to your workspace to mix colors or test ideas.
View References allow you to pin a custom view of your canvas to your workspace to show different zoom levels or areas while you paint.
Tracing Image:
Import an image to be projected on to the Canvas as a Tracing Image.
Allow ArtRage to choose the color of your strokes automatically from the Reference Image as you paint.
Use the Tracing Image to control Glitter or Sticker Spray color to recreate the image automatically while you paint strokes.
Scale and position the Tracing Image.
Stickers:
Select traditional Stickers from sheets and apply them manually to the canvas.
Scale, position, and rotate stickers independently.
Apply color tints to Stickers.
Stickers apply color, texture, and gloss to the surface.
Apply and adjust drop shadows on each Sticker.
Create your own Sticker Sheets from source images.
Layout Utilities:
Grids & Guides:
Display a grid on the canvas with customisable segments and sizing.
Snap strokes to the grid automatically while you paint.
Drag single line Guides to the canvas to act as a measuring tool or snap point for painting.
Create Horizontal and Vertical guides at the same time with a single drag.
Store and recover sets of Grids and Guides for when you need to have more than one in an image.
Perspective:
Add Perspective Layout Grids as guides while painting.
Customize every element of the grids, including vanishing points and Wall/Floor surfaces.
Add individual Walls and Floors as you desire.
Supports 1 and 2 point Perspective.
Snap your paint strokes to a direction automatically along the line to the nearest vanishing point.
Store and recover set of Perspective Guides for when yo need to have more than one in an image.
Digital Utilities:
Layers & Groups:
Add multiple layers to the document.
Control the Opacity and content lock of each Layer.
Assign industry standard Blend Modes to each Layer.
Assign Paint Depth Blend Modes to each Layer.
Store Layers in nesting Groups for ease of organisation.
Export individual Layers either as flat images or the source maps for their color, texture, and more features.
Assign Layer Effects: Drop Shadow, Cutout, Glow, Inner Glow, Emboss, and Stroke.
Transform:
Scale, Rotate, and move the contents of any layer or Selection.
Apply non-uniform transforms to distort content.
Flip Horizontal or Vertical.
Lock scale to current Perspective Guides if there are any.
Toolbox:
Toolbox Panel provides a customizable space in which you can assign your own contents including Color Samples, Layers, Stencils, Presets, and other items you need for a specific painting.
Save and load Toolbox layouts.
Other Features:
Unlimited Undo and Redo.
Multiple Document support.
Full copy/paste of all special Layer Properties such as texture and gloss between paintings.
Special Effects & Filters:
Paint Symmetry:
Automatically create multiple strokes around a centre of symmetry.
Customize the number of symmetrical segments, the position of the centre, and the rotation of the segments.
Clip paint strokes to the segment they started in.
Paint blends and smears like normal if you cross over segments.
Warp Filter:
Smear and warp your images with non-destructive brush strokes.
Adjust the size, hardness, and pressure of the brush head.
Create smears, pinches, and swirls under the brush.
Store your favorite settings as Presets for easy recovery later.
Adjustment Filters:
Blur Filter.
Color Adjustment Filter.
Add Noise Filter.
Remove Color Matte Filter.
Supports some Photoshop standard filters.
Interface & Workflow:
Interface Features:
Simple, stylish interface that leaves as much of your workspace free as possible.
Panels and other objects vanish as you paint close to them to avoid interrupting your work.
Choose between Classic layout where panels are docked to the corners, or Docking layout where you can customize stacks of panels on the left and right of the canvas.
Lights Out mode allows you to replace the default light canvas with a dark layout.
Customize the color of tints in the interface.
Choose between different types of cursor for your tools.
Customize keyboard shortcuts for most common functions.
Interface adapts automatically to supported languages including English, French, German, Dutch, Italian, Spanish, Russian, and Japanese.
Retina and HiDPI display support improves the UI quality on both Windows and MacOS
Pen Tablet & Touch Support:
Supports pen tablet input for natural variance in your strokes.
Pen features supported include Pressure, Tilt, Tilt Angle, and Barrel Rotation where available.
Supports Stylus ID where available, allowing you to assign specific tool variants to individual styluses for ease of selection.
Supports Multitouch gesture input.
Supports Windows Touch Rejection.
File Format Support:
ArtRage PTG painting format stores your entire painting including the Tool Settings and colors you used, all of your Layers, and the thickness and wetness of paint on the canvas.
Exports to standard image formats for when you want to share your paintings, including PNG, JPG, and TIFF.
Import standard image formats to turn them in to paintings.
Supports import and export of Photoshop PSD files with layers and groups intact.
Create automatic backups of your files as you save.
Creates icon previews of your files on your Windows or macOS desktop.
Automatic saving of your paintings as you work.
Can set to automatically increment your file saves so you keep a history of your painting.
Package Files:
Gather multiple resources together in to a single file that can be shared with other users.
Add Presets, Color Samples, Stencils, Pickers, Sticker Sheets, and other types of content to a Package File.
Install Package Files with a double click to install all of their contents in the appropriate location for ArtRage.
Uninstall Package Files from a simple panel when you don't want the content any more.
Scripting & Actions:
Script Engine:
Turn on Scripting to record your paint strokes as you make them.
Play back scripts to reproduce your painting from scratch, stroke by stroke.
Adjust the size of the script to be played back to recreate your image at different resolutions.
Share your scripts with other ArtRage users to allow them to watch your process in full PTG format.
Annotate your scripts with notes and spotlights to show the techniques you used.
The ArtRage Scripting language allows you to manually edit every element of your painting.
Actions:
Record simple processes and store them as Actions that can be played back on the current canvas with a single click.
Choose whether to apply Actions to new layers, edit existing layers, and whether to record tool settings.
Share useful actions with other ArtRage users.
The ArtRage Scripting language allows you to manually create actions using a programming language that provides access to input values and allows you to create interface panels for script parameters.
Actions can have shortcut keys assigned for instant access to commonly used actions.
Collaborative Painting with PaintLink:
Share a canvas with a friend:
Use the inbuilt PaintLink messaging system to coordinate with your friend.
Start a collaborative painting session through your PaintLink account.
Work with your tools and layers as normal – your friend sees your changes and you see theirs.
Swap ownership of your layers if you want.
Resume a collaborative painting session with your friend – collaboration and layer information is saved with your projects
Share content with all your friends:
Send ArtRage tools, reference images, colour sets and other content directly to your friends from PaintLink messaging
Incorporate content your receive directly into your painting.
You don't need to have a collaborative painting session active – you can send and receive content to anyone in your friend list.