ArtRage for IPad Version 1.6.5 includes new Wacom Stylus Support
Intuos Creative Stylus 2 and Wacom Bamboo fineline Stylus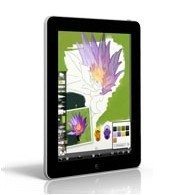 We've just updated ArtRage for iPad to include support for two new pressure sensitive styluses from Wacom, the Wacom Intuos Creative Stylus 2 and the Wacom Bamboo fineline. With their winning combination of ergonomic design and artist focused approach, we wanted to make sure that you could use these new styluses with ArtRage as soon as possible.
The new styluses feature more durable, better designed and narrower nibs, which can be used with precision on any capacitive touchscreen, from tablets to smart phones.
About the Styluses
The Wacom Bamboo fineline is available to purchase now, and introduces a long-awaited thinner tip to allowed more precise, fine lines and improve the experience of your inking and painting. While it's designed for note taking, it should also seriously benefit artists as well. The tip is a miniscule 1.9 mm, compared to the usual 8 mm.
The Wacom Intuos Creative Stylus 2 is not yet available for sale, but it is available for preorder and will be in store in mid-October. This more professional level stylus is a serious upgrade to the existing Wacom Intuos Creative Stylus, and improves control and precision for serious artists, with its strong, thin tip and 2048 levels of sensitivity.It's not just an iPad stylus, but should be an effective addition to the workflow of Cintiq and Intuos touchscreen artists.
Wacom has also just released the non-pressure sensitive Bamboo Solo and Bamboo Duo for more casual users, which are affordable, elegant and well designed for ease of use. These are basically the same stylus except that the Duo also has a normal ballpoint pen so it's a dual function stylus pen. These are automatically supported by ArtRage, as they do not require a Bluetooth connection.
Stylus Specifications

Both Styluses
Aluminum body, with soft touch paint on pen grip
Fully integrated with Bamboo™ Paper and Wacom Cloud services. Unique Pen ID for identification to Wacom Cloud service
Compatibility: All iPads featuring Bluetooth® Smart technology (iPad® (3rd or 4th generation), iPad Air®, iPad mini® (1st and 2nd generation) and later models).

Getting Started