Category: Version Update Histories
The release history for the ArtRage for iOS app
n
ArtRage for iOS is a powerful, intuitive painting package that makes it easy to produce natural looking artwork on your iPad. It is based on ArtRage 3, and includes most of the same traditional tools, and intuitive approach. The interface has been adapted to the iOS platform, and is easy to use with finger or stylus.
n
Paintings from the iOS app can be easily exported to the desktop version, and Scripts can be played back at increasingly large sizes in order to create larger quality files.
n
More information about the features can be found here: ArtRage for iOS
n
ArtRage for iOS can be purchased on iTunes here.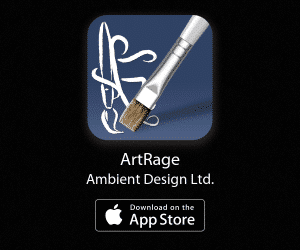 nn
Experiencing Problems?
n
If you experience a problem with ArtRage let us know using the Support Page. We're happy to work through problems with you and in most cases we can quickly resolve the issue.
n
Speed issues or crashing can usually be resolved quickly and easily by closing parked apps and rebooting your iPad.
n
In other cases we can use crash logs generated on your iPad to track down the exact cause of a problem and produce a fix. Many of the fixes listed in this update came about thanks to users who had problems telling us about them, so don't hesitate to get in touch.
nnnnVersion Historyn24 Jan 2018 Version 2.3.4nWe've solved some problems that could occur when opening the References Panel or using Reference images, fixed a problem that could make the color picker vanish as you start painting as if you were painting close to it, and re-implemented applying Loading values when using Palette Knife Presets. We've also updated to the latest Wacom stylus SDK for updated device and pen support.nn
2018
nnArtRage for iOS 2.3.4 nnArtRage for iOS 2.3.3 nn
2017
nnArtRage for iOS 2.3.2 nnnnArtRage for iOS 2.3.1 nnArtRage for iOS 2.3.0 nnArtRage for iOS 2.2.2 nnArtRage for iOS 2.2.1 nn
2016
nnArtRage for iPad 2.1.7 nnArtRage for iPad 2.1.6 nnArtRage for iPad 2.1.5 nnArtRage for iPad 2.1.3 nnnArtRage for iPad 2.1.2 nn
2015
nnArtRage iPad 2.1.1 nn
ArtRage for iPad 2.1 Updates
n
Updated for iPad Pro with larger canvases and tools, added iOS9 Split screen support, and hooked up the Apple Pencil's Tilt and Pressure features to further enhance the realism of our virtual painting tools. 2.1 also includes a large number of performance and memory enhancements along with fixes and other new general features.
nn nn nn nnArtRage iPad 2.0.2 nnArtRage iPad 2.0.1 nn
ArtRage for iPad 2.0.0 Updates
nn nn nn nn nn nn nn nn nn
2014
nnArtRage iPad 1.6.5 nnArtRage iPad 1.6.4 nnArtRage iPad 1.6.3 nn
2013
nArtRage for iPad 1.6.2  nnArtRage for iPad 1.6.1 nnArtRage for iPad 1.6.0 nArtRage for iPad 1.5.1 nn
2012
nArtRage for iPad 1.4 nniPad 1.3.1 nn
2011
nn
Enhancements:
n
n
Significantly enhanced the speed of canvas zoom and pan.
n
Memory Warning: ArtRage uses a lot of memory to track properties of your paint such as its texture on the canvas, how wet it is, and other properties of physical media. This means it can sometimes be easy to run low on memory. A warning prompt now pops up on the ArtRage toolbar when your iPad detects memory is low, and the Help guide built in to the app gives you some steps you can take to help in these situations. Users who have experienced crashes are probably seeing the app shut down by the OS when memory runs out, this warning w