An Interview With An ArtRage Artist (Una entrevista con un ArtRage artista)
Ignacio de la Calle is a Spanish artist who paints sci-fi and fantasy art, and impressionistic landscapes rich with colour, brushstrokes and story.
Ignacio de la Calle es un artista español que pinta de ciencia ficción y el arte de la fantasía y paisajes impresionistas rico con color, pinceladas y la historia.

This interview is in both English and Spanish. English questions and answers are on the left, Spanish questions and answers are on the right. Any mistakes are made by Ambient Design staff (who don't speak Spanish!).
Esta entrevista es en Inglés y Español. Preguntas en castellano y respuestas están a la izquierda, preguntas y respuestas españolas están a la derecha. Cualquier error se realizan por el personal de diseño ambiental (que no hablan español!).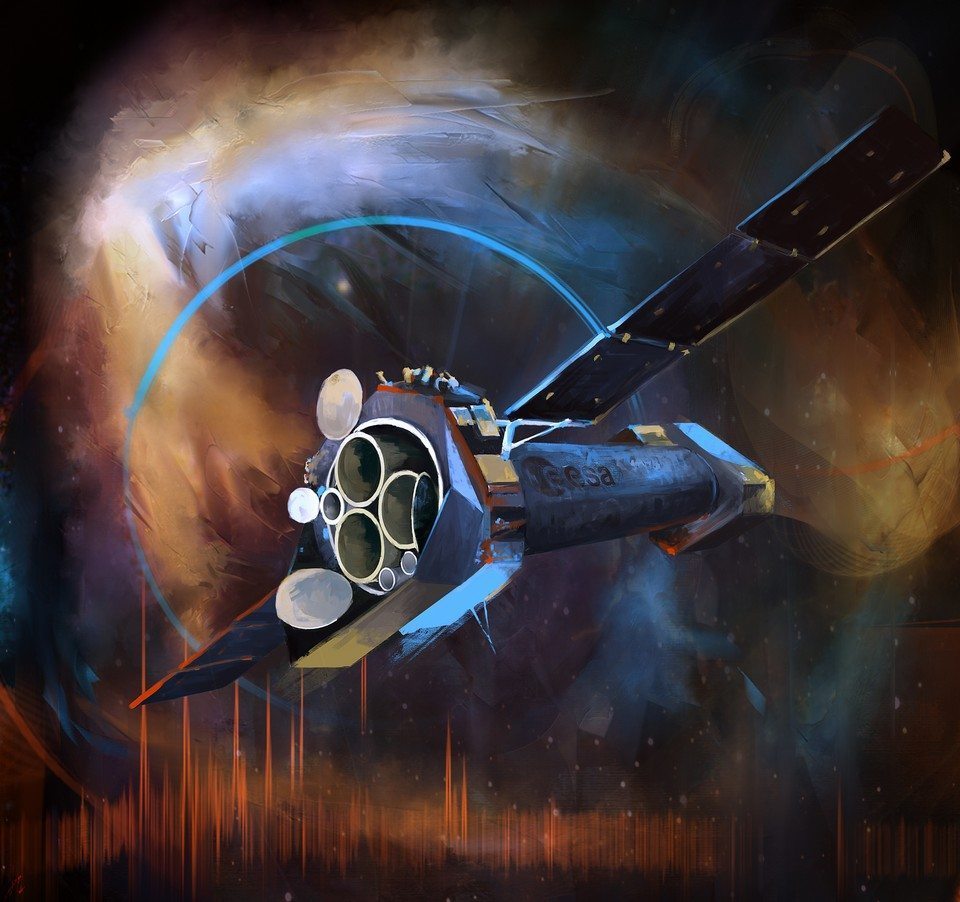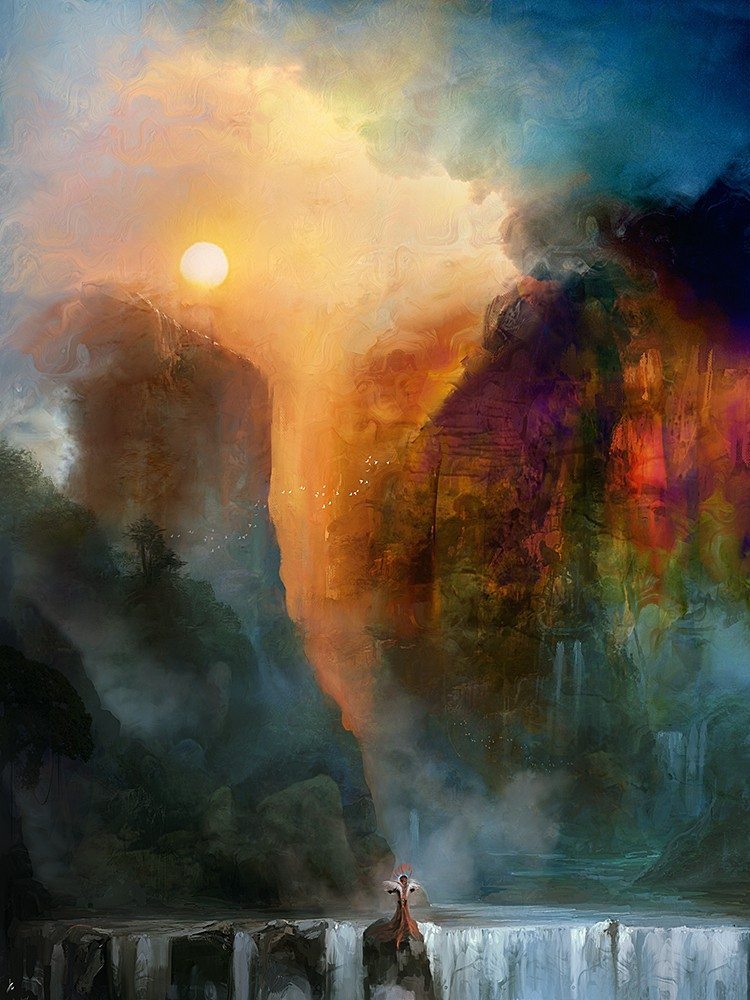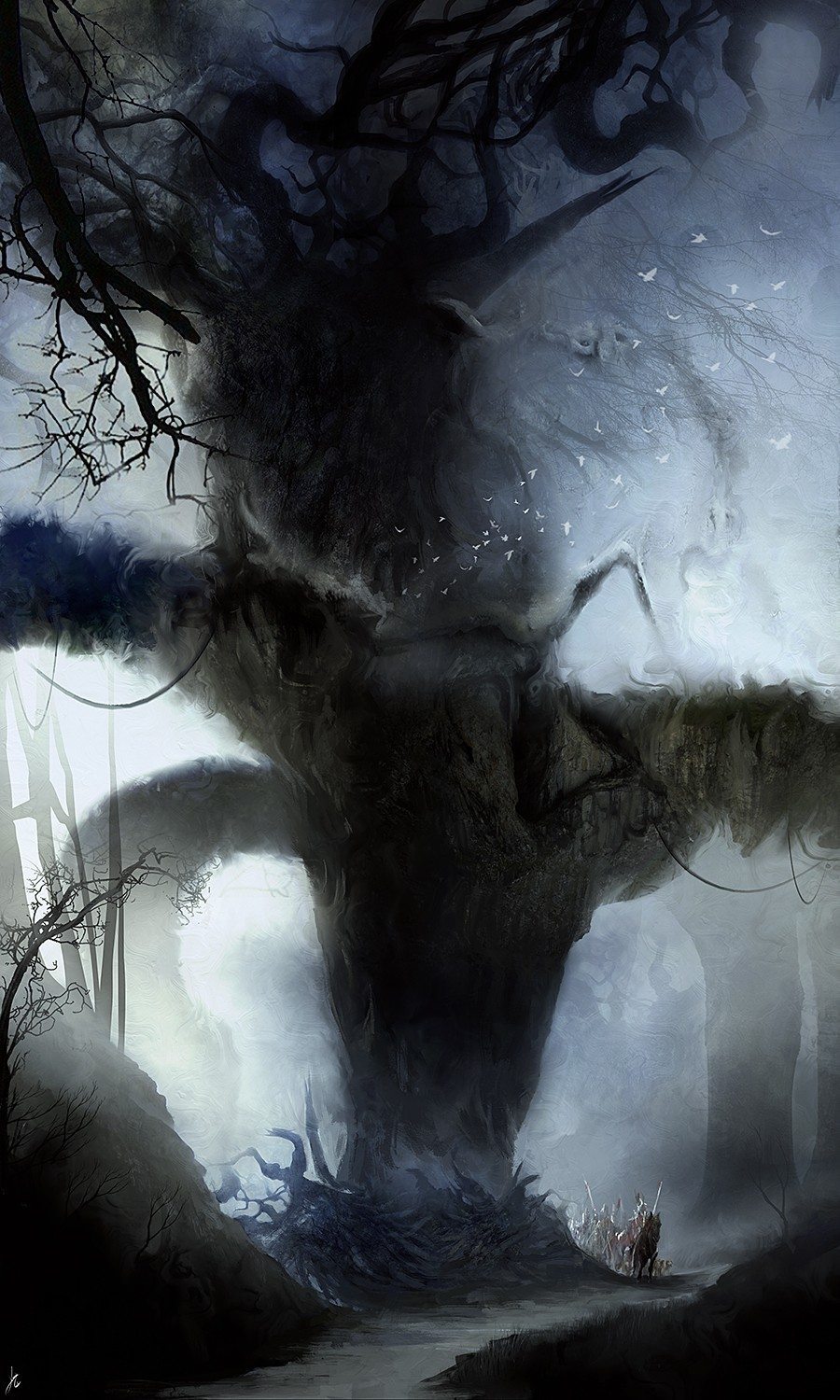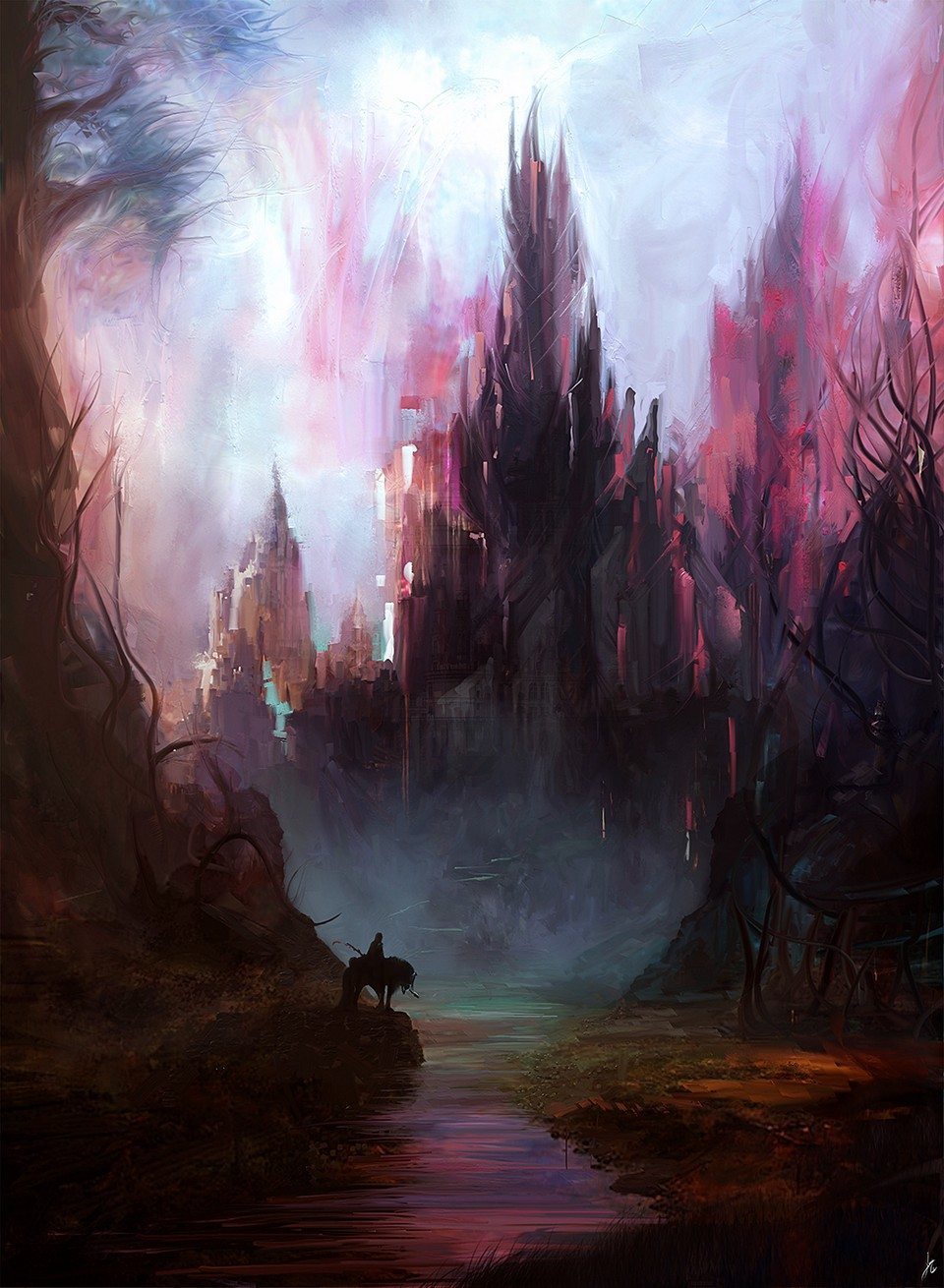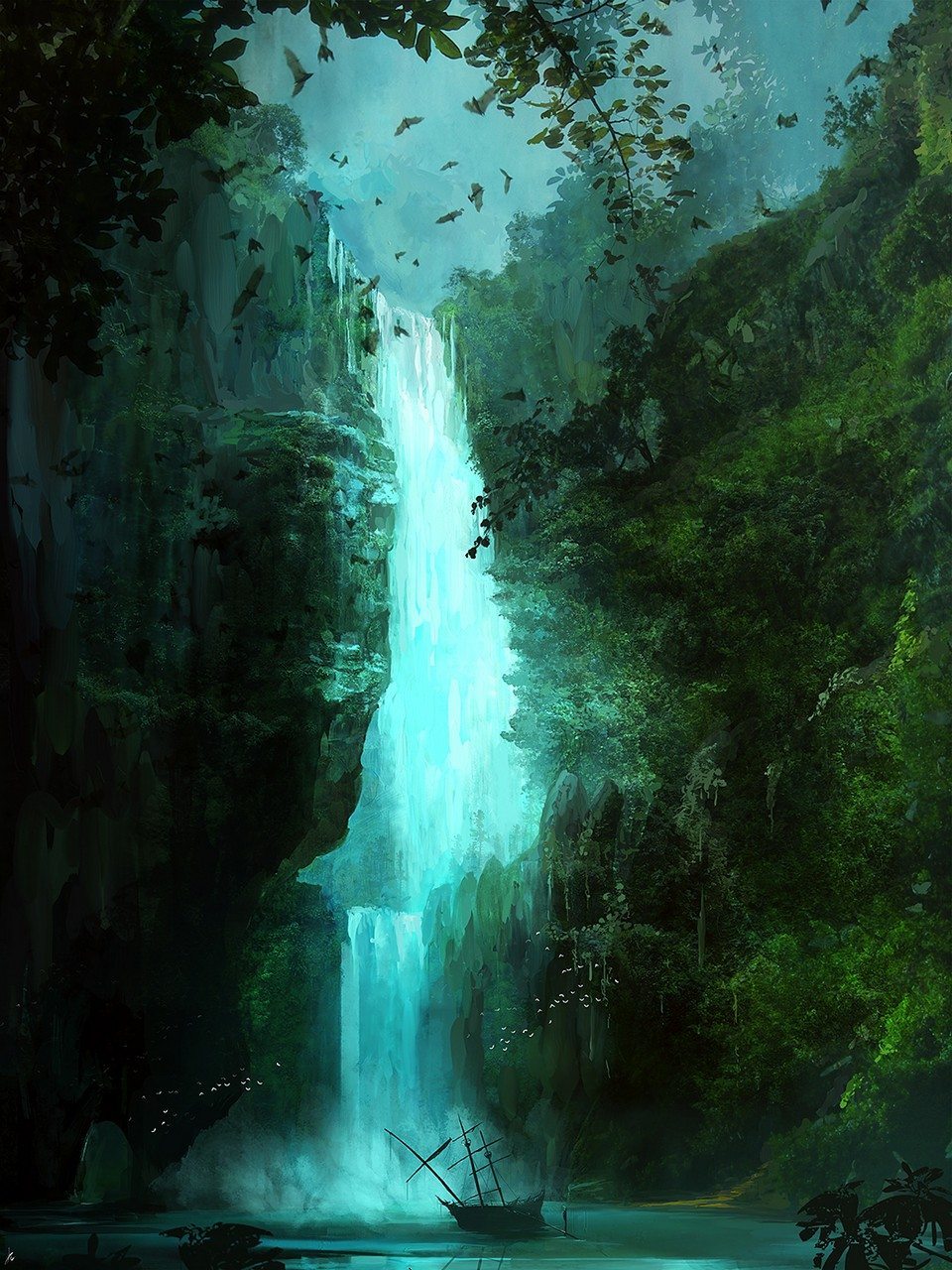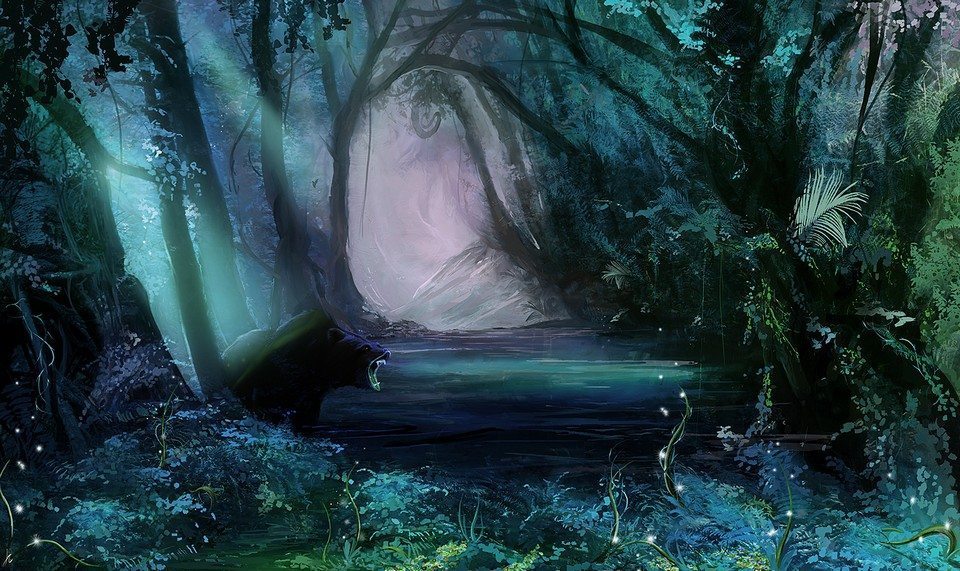 Who are you? What do you want the internet to know about you?
I was born in Madrid and raised just outside Madrid. I didn't go to art school, but I always did one way or another something related with painting. Either at home or classes outside school or university, I have always been painting. I studied Astrophysics at Madrid University (Universidad Complutense de Madrid). After my degree, I moved to the UK to continue my PhD studies in Astrophysics. I was there for about 7 years between Leeds and Oxford. Ten years ago I moved back to Madrid where I now work for the European Space Agency, in particular with an X-ray satellite.
For a time before entering into University I thought about whether to do Art or Physics. At the end the prospects of finding a job after University weighted more than what I felt like doing. I don't regret studying physics, I enjoyed it, but with age and now that I have settled, I have started to get more back into art again. So it is my main hobby now and I would not mind one day to be able to live of it.
What kind of artist are you? (how would you describe your style and/or theme??)
I am a bit of a perfectionist in everything I do, and this includes my drawing. My art class teachers over the years have always said that that shows in my art. This is not necessarily a good thing. They were always trying to push me towards been more spontaneous with my brush strokes, not so rigid. And no matter how much I tried, I always ended up getting lost in details, which again is not necessarily a good thing while painting. I still try today to be more spontaneous and leave things unfinished and more chaotic. ArtRage is good for that. You can create chaos very quickly with the brush, the knife and a big splash of paint. Great for experimenting.
If I had to choose what kind of artist I would like to be I would go for realism. And I would mainly draw people. When I browse art online portraits are most of the times the pieces that catch my attention. And the more realistic they look, the better. Although I do like that the brush strokes show as well. So when I draw I lean towards this kind of art.
¿Quién es usted? ¿Qué quiere que Internet sepa de usted?
Nací en Madrid y crecí a las afueras de Madrid. No estudie arte en ningún momento, pero de una forma u otro siempre he hecho algo relacionado con dibujar o pintar. Bien en casa o en clases fuera de lo que es el colegio o la universidad, siempre he pintado. Estudie astrofísica en la Universidad Complutense de Madrid. Una vez graduado me fui a Inglaterra a continuar mis estudios de doctorado en astrofísica. En total estuve en Inglaterra unos 7 años entre Leeds y Oxford. Hace 10 años volví a Madrid donde ahora vivo y trabajo para la Agencia Espacial Europea. En concreto trabajo con un satélite de Rayos X.
Hubo un tiempo justo antes de empezar la universidad en el que me plantee si estudiar Bellas Artes (así se llamaba en Madrid) en lugar de físicas. Al final, las posibilidades de encontrar trabajo como físico pesaron más que mi interés por el arte. No me arrepiento de la elección, disfrute estudiando física pero con la edad y ahora que tengo un trabajo más estable, decidí meterme un poco mas otra vez en el mundo del arte. Así que ahora dibujar/pintar es mi principal hobby y no me importaría algún día en un futuro cercano dedicarme a esto.
¿Qué clase de artista es usted? (¿Cómo describiría su estilo y su tema?)
Soy un poco perfeccionista en todo lo que hago, y eso incluye a mi manera de pintar. Los profesores que he tenido a largo del tiempo siempre me han dicho que se refleja en mis trabajos. Esto no es necesariamente bueno a la hora de pintar. Los profesores siempre estaban empujándome para que fuera mas espontaneo a la hora de emplear los pinceles, o pasteles o lo que fuera que estaba haciendo, y no tan rígido. Por más que lo intentaba, siempre acababa perdiéndome en los detalles, lo cual tampoco es necesariamente bueno a la hora de pintar. Todavía hoy en día intento ser mas espontaneo e intento dejar las cosas no tan terminadas y con un aspecto algo mas caótico. ArtRage es muy bueno para conseguir esto. Puedes crear caos de una manera rápida y sencilla con la herramienta de pincel, espátula o poniendo pegotes de pintura. Perfecto para experimentar.
Si tuviera que elegir que tipo de artista me gustaría ser creo que elegiría realista, y principalmente dibujaría gente. Cuando busco y miro arte online suelen ser los retratos los que mas me llaman la atención. Y cuanto más realistas sean mejor. Aunque también me gusta cuando se combina y se ven pinceladas bien marcadas o grandes contrastes de color o forma. Así que cuando pinto intento que lo que hago tenga este aspecto.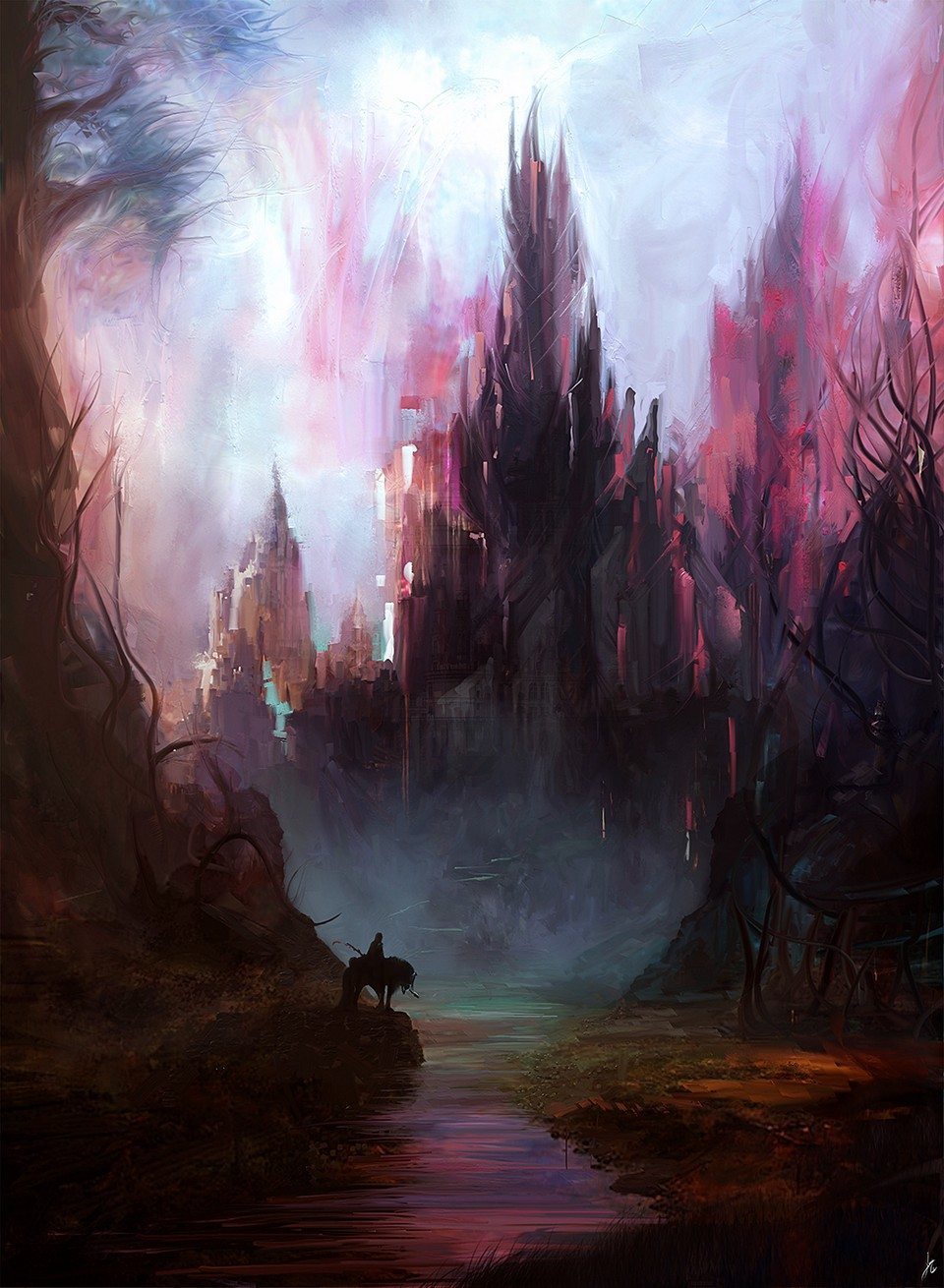 Do you come from a digital or traditional art background?
I come from a traditional background. I have always done one thing or another traditionally from a very young age. I have done from charcoal to acrylics, going through watercolours and pastels. Pastels are one of my favorite media to use, and although I like watercolours, I find them very difficult to control. It was only about five years ago that I decided to switch to digital after discovering some digital art magazines. I was curious to find out how people could do those things with a pc. At the time I didn't even know you could use programs such as Photoshop for that. I have not done anything traditionally since I discovered a tablet and these kind of software. Most likely because of my traditional background, I tend to imprint into my digital work a traditional feel.
Do you use other programs or traditional media?
I have tried different programs over these five years. But I don't have the time to learn them all in depth. I learned Photoshop in depth and that's about it. That's one of the reasons I like ArtRage, because with little effort I quickly got into it and I could get reasonable results. I combine digital and traditional tools in most of my work. This is especially true for my portraits, not so much for my landscape work. I have spent some time creating acrylic and watercolor backgrounds and shapes. I then scan them at high resolution and use them digitally. You can easily spot them in my work.
How long have you been using ArtRage?
I have had ArtRage for a while, but I never fully got into it. This past Christmas I took the iPad with me when going abroad, and one day I decided to give the iPad version of ArtRage a go. I downloaded it and started using it. I started painting with my finger and I found out that it was quite fun, and soon I started to get some results which I liked. So once I got back home, I gave the desktop version another try. With what I had learned using the iPad version I started to get good results as well.
How did you encounter the program?
I think that the first time I heard about ArtRage was through the magazine ImagineFX. I remember going to YouTube afterwards to see if I could find out tutorials to see how the software works and what it does.
¿Vienes de un fondo de arte digital o tradicional?
Vengo del mundo tradicional. Siempre he pintado de manera tradicional de una u otra forma desde que era pequeño. He ido desde carboncillo a acrílicos pasando por pasteles y acuarelas. Los pasteles son mis preferidos, y aunque me gusta la acuarela, lo encuentro un medio demasiado complicado de controlar. Es solo desde hace unos 5 años que descubrí por medio de revistas especializadas y me metí en el mundo digital. Sentí curiosidad por saber como podía la gente hacer esas cosas con un un pc. Por entonces ni siquiera sabía que se podía usar Photoshop para eso. No he vuelto a hacer nada de manera tradicional desde que descubrí la tableta y los distintos tipos de software que se puede usar. Posiblemente por mis uso de medios tradicionales en el pasado intento que lo que hago digitalmente tenga un toque tradicional.
¿Utiliza otros programas o medios de comunicación tradicionales?
He utilizado diferentes programas a los largo de estos años. Tampoco tengo el tiempo para aprenderlos todos bien. El único en el que me he metido en detalle es Photoshop. Esa es una de las razones por las que me gusta ArtRage, se puede aprender sin mucho esfuerzo y se obtienen muy buenos resultados rápidamente. Suelo combinar medios digitales y tradicionales en la mayoría de trabajos, sobre todo en los retratos, no tanto en los paisajes. Suelo emplear tiempo en crear con acrílicos y acuarelas fondos con manchas de color. Luego los escaneo a alta resolución y los utilizo digitalmente. Son fáciles de identificar en mis trabajos.
¿Cuánto tiempo ha estado usando ArtRage?
Tengo ArtRage desde hace un año o así, pero nunca me llegue a meter del todo con él. Esta navidades me lleve el ipad conmigo y un día decidí bajarme la versión de ArtRage para el ipad y ver que tal. Empecé pintando con el dedo y descubrí que era bastante divertido y pronto empecé a obtener resultados que me gustaban. Así que una vez llegue a casa decidí dar otra oportunidad a la versión de pc. Con lo que había aprendido en el ipad pronto obtuve buenos resultados también en él.
¿Cómo ha encontrado ArtRage?
Creo que la primera vez que escuche algo sobre ArtRage fue a través de la revista ImagineFX. Recuerdo ir a YouTube después de leer un artículo para buscar tutoriales e intentar ver que era este software y que cosas se podían hacer con él.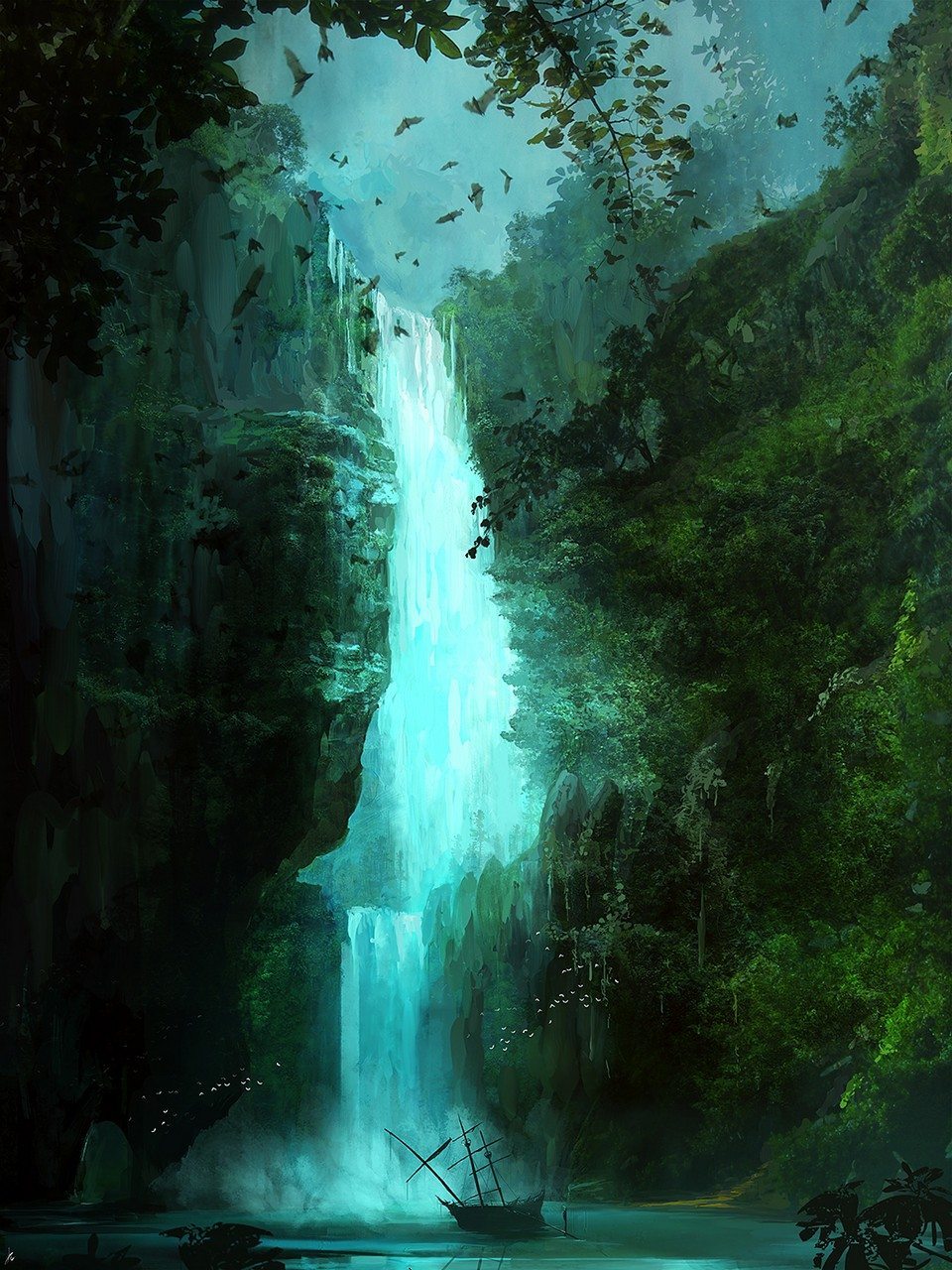 What ArtRage works or projects are you most proud of? Are they the ones everyone else likes? Tell us about them!
I do not have a favorite work because I connect to all of them. In each work I learnt something new and I did my best. However, Calamart represents a breakthrough in my career, because it was time of searching for my style, and after working hard I achieved a result that pleased me a lot. I showed that I can achieve anything I set my mind to, with practice and dedication.
How do you choose what to draw?
I go through phases. I started drawing portraits when I started working digitally. They came easier to me. I tried landscapes at the beginning and I just could not get anything interesting out, not to mention getting the right colours. I just thought it was impossible. About two years ago a friend of mine that was writing a fantasy book asked me if I could draw some landscapes for her story. So I came back to landscapes and really tried to find a way of doing something decent. So after many tries and many tutorials, and different approaches, I found a way which works for me. And now all I do is landscapes. In this particular case, my friend feed my descriptions of places and I tried to recreate them. I'm also working on my own scifi story (which the same friend is working out for me). Having these kind of story lines, even if they do not reach a good ending as such, helps me to work out what to draw.
Other times I simply get ideas from browsing other people's art or while watching a film, or by reading other people's tutorials.
Are you trying to tell a particular story/convey a certain meaning, or just basing it on what looks good? What response do you want from people?
In general I don't try to tell a story. Although lately I have been trying to introduce a story line in my works. But I also find difficult to convey a story or emotion through an image. The response you get from people varies a lot. For me is enough that they like the work, although I have to admit that sometimes when I see certain works from other artists which are very emotional, I wish that I could reach that point one day.
Qué ArtRage obras o proyectos estás más orgulloso? Cuéntanos acerca de ellos!
No tengo un trabajo favorito pues con todos tengo una conexión muy grande, en cada trabajo aprendo algo nuevo y doy lo mejor de mí. Sin embargo, esta ilustración representa un gran avance en mi trayectoria, pues fue un momento de intensa busqueda en mi estilo, y después de trabajar muy duro logré un resultado que me agradó bastante, me demostré que puedo lograr cualquier cosa que me proponga, con práctica y dedicación.
¿Cómo elegir qué dibujar?
Atravieso fases. Comencé dibujando retratos cuando me empecé en el mundo digital. Me pareció mas fáciles y se me daba mejor. Intente hacer paisajes, pero me era muy difícil sacar algo interesante, por no mencionar conseguir que la mezcla de colores funcionase. Me parecía imposible. Hace dos años una amiga mía que está escribiendo un libro de fantasía me pregunto si haría paisajes que cubrieran su historia. Empecé a meterme en paisajes otra vez y a intentar buscar formulas que me dieran buenos resultados. Después de muchos tutoriales y pruebas, encontré el método que funciona para mí, y últimamente es todo lo que hago, paisajes. En este caso en concreto mi amiga me describía lugares, y yo los reproducía. También tengo un proyecto personal de ciencia ficción. Aquí funciono a la inversa, la misma amiga me escribe una historia basada en lo que yo dibujo. Contar con este tipo de historias, incluso si no van a ningún lado como tales, es bueno para inspirarse.
Otras veces simplemente tomo ideas de lo que otra gente hace, o mientras veo una película, o leyendo tutoriales que escriben otros.
¿Estás tratando de contar una historia en particular / transmitir un cierto significado, o simplemente lo base en lo que se ve bien?
En general no intento contar una historia con mi trabajo. Aunque últimamente intento introducir elementos narrativos en mis trabajos. Aun así me parece difícil transmitir una historia o sensación con una imagen. La respuesta que obtengo de la gente varía mucho. Para mi es suficiente con que guste. Aunque he de admitir que hay veces que cuando veo algunos trabajos de otros artistas y me transmiten una sensación, pienso que me gustaría algún día poder alcanzar ese punto.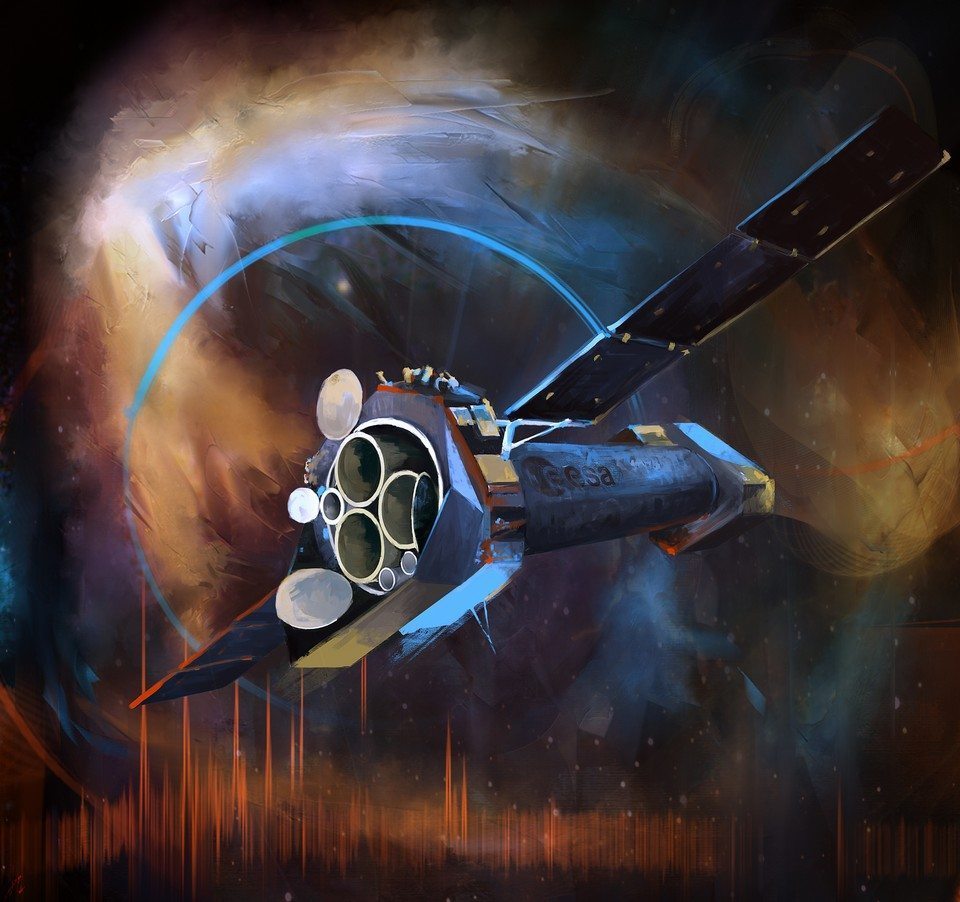 Why do you use ArtRage?
I like ArtRage because of the traditional feel you can give your art. The learning curve is also very fast, and in no time you get to control the tools it offers.
Where does ArtRage fit into your workflow? (e.g. do you use it for entire paintings or for specific points in the painting process?)
My workflow for the past months is to start my works either on the ipad or the desktop version of ArtRage. Once I reach a certain point, I move to Photoshop to work on the details and post processing. I find ArtRage very useful to get at least that first background image. The bigger blocks of color, texture and paint in the image. As I am getting more familiar with ArtRage, I am working further into the image with ArtrRage before I move to Photoshop. Sometimes after the post processing phase in Photoshop I go back to ArtRage for a final smear of some areas and that final traditional feeling.
¿Por qué usa ArtRage?
Lo que me gusta de ArtRage es la sensación de trabajo tradicional que le puedes dar a tus imágenes. También el hecho de que la curva de aprendizaje sea rápida y que en poco tiempo estés controlando las herramientas que el programa ofrece.
¿Dónde encaja ArtRage en su flujo de trabajo? (por ejemplo, lo uso para las pinturas enteras o puntos específicos en el proceso de pintura?)
En los últimos meses mis trabajos los he empezado bien en la versión del ipad de ArtRage on en la de pc. Una vez llego a cierto punto de elaboración, me muevo a Photoshop para trabajar en los detalles finales y el post procesado. Creo que ArtRage es muy útil por lo menos para formar una buena base de formas, colores y texturas. Cuanto más me familiarizo con ArtRage, mas elaborado es el trabajo antes de cambiarme a Photoshop. Algunas veces después del post procesado vuelvo a ArtRage para dar a la imagen ese toque final tradicional.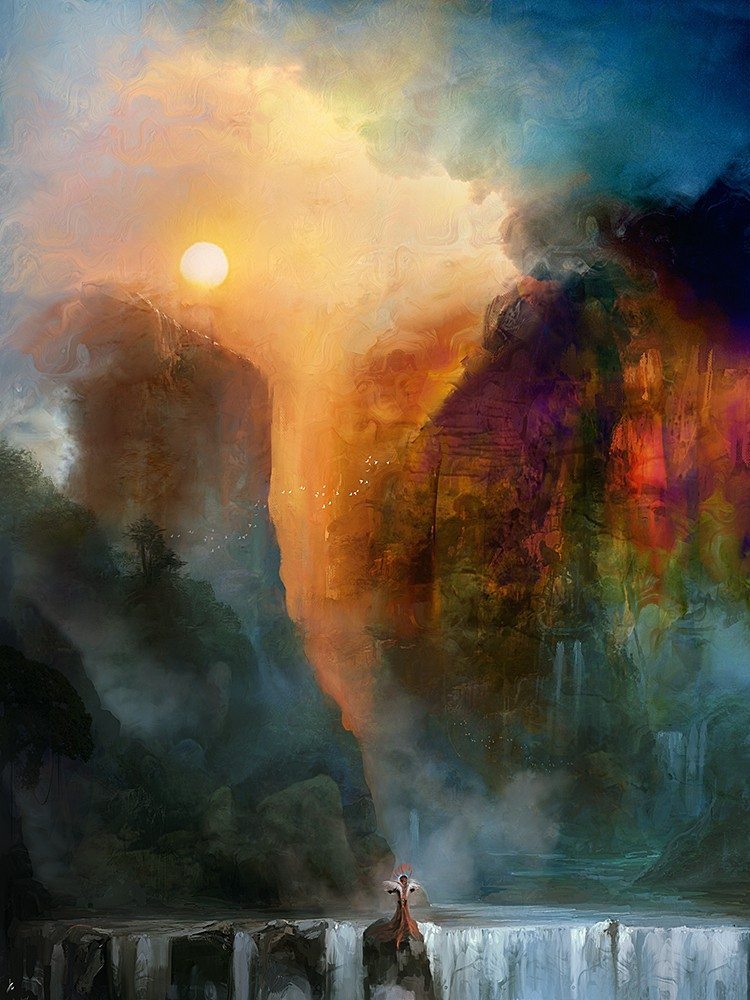 How would you normally paint a picture? What is your process?
I have to admit that I don't have much patience, and this also applies to my work. I have done and endless list of tutorials and a few online digital courses. All of them start with gathering references, setting up the mood, the color, the perspective, composition and so on. Then you sketch it and only then you start working on it. The part I like about painting is painting, so in all this preparation, I have to admit, that I cut many corners. True, they are important and that you have to know about them, but I like to apply them as I paint. Sometimes it means that you end up with something that is no good, and you wish you had given it a bit of thought beforehand. But I don't mind, I prefer to drop it and start painting something new. My first drawing took my 42 hours (I have it written down), and now I hardly spend more than 6-8 hours on something. You can always use a bit more.
So my process start with an idea. I always have something in mind. I used to start working in grayscale because you don't need to worry about colour to start with. But I find hard to colour a grayscale image, no matter how many techniques I have applied. So lately I have been starting directly in colour. I find you get nicer more realistic colours. Because of my eagerness, impatience, to start painting, what I do is take a photo I like and take it for my base colours. I don't always do that, sometimes I start with one of my scanned traditional background. Other times I combine a few photos or backgrounds I made digitally. If I start in ArtRage, I take the palette knife and completely blur and scrape any sign of the images. All I want is the colour to remain and also interesting shapes created by the knife. ArtRage works great in blending colours. Once I have a colour base I start working on whatever I had in mid. I start defining everything very loosely. If I need another colour or need to introduce a texture, I look for photos I can use and load them in ArtRage. I convert them to paint (very useful tool), try blending modes on that layer, and once happy merge all the layers. I always use only one layer in Artrage. That way the blending of colours works best.
At a given point of the process, when I need to add details or need adjustment layers, I move to Photoshop. I find easier to add, for example, shapes in Photoshop or work on very fine details. I finish up the work by applying adjustment layers. Sometimes after all this, I go back to ArtRage to add small touches of 'traditional' media here and there.
¿Cómo suele pintar un cuadro? ¿Cuál es su proceso?
Tengo que admitir que en general no tengo mucha paciencia, y esto también es cierto cuando pinto. He visto mucho tutoriales y hecho cursos online. Todos empiezan mencionando la importancia de hacerse con referencias, establecer la ambientación, el color, la perspectiva, composición y todo eso. Luego pasas a hacer un boceto y empiezas a trabajar en el. La parte que a mí me gusta de pintar, es el hecho de pintar, así que en todo este proceso preparatorio, tengo que admitir, tomo atajos. Es cierto que son importantes y que debes tenerlos presentes, pero yo los voy improvisando según pinto. Algunas veces esto implica que termino con algo que no me gusta, y pienso que debería haber pensado un poco antes de empezar que es lo que quería hacer. Pero no me importa, prefiero dejarlo de lado y empezar con algo nuevo. My primer trabajo digital me llevo unas 42 horas (lo apunte), y ahora tardo apenas 6, 8 horas máximo, por trabajo. Siempre podría usar algo más.
Así que mi proceso empieza con una idea. Siempre tengo algo en mente. Solía empezar mis trabajos en escala de grises, porque así no me tenía que preocupar de los colores. Pero dar color a una imagen en escala de grises es complicado también, y eso que he probado distintas técnicas. Últimamente empiezo mis trabajos directamente en color, y creo que se obtienen mejores resultados. Dado mi impaciencia por empezar a pintar, lo que suelo hacer es coger una foto, o varias, cuyos colores me gusten y mezclarlas. No siempre hago esto, a veces cojo uno de mis fondos tradicionales escaneado como punto de partida. Cuando empiezo con ArtRage, uso la espátula y me deshago de cualquier rastro de la imagen. Solo me interesa que quede el color. ArtRage es muy bueno en el mezclado de colores. Una vez tengo esta base, comienzo a trabajar en lo que sea que tuviera en mente. Empiezo definiendo todo muy por encima. Se necesito otro color o textura, busco mas imágenes ya las voy sumando. Las convierto a imagen para pintar con una de las opciones de ArtRage. Pruebo distintos modos de fusión y una vez contento, las sumo todas en una única capa de trabajo. Siempre trabajo en una sola capa en ArtRage, de esa manera la fusión de colores funciona mejor, si no, no hay mezcla de color.
En algún momento del proceso de trabajo, me llevo la imagen a Photoshop para trabajar en los detalles finales. Es mas fácil hacer ciertas cosas con las herramientas de selección y mascaras de Photoshop. Luego ya me meto con las capas de ajustes para terminar la imagen. Algunas veces después de todo esto, vuelvo a ArtRage para buscar ese toque final tradicional.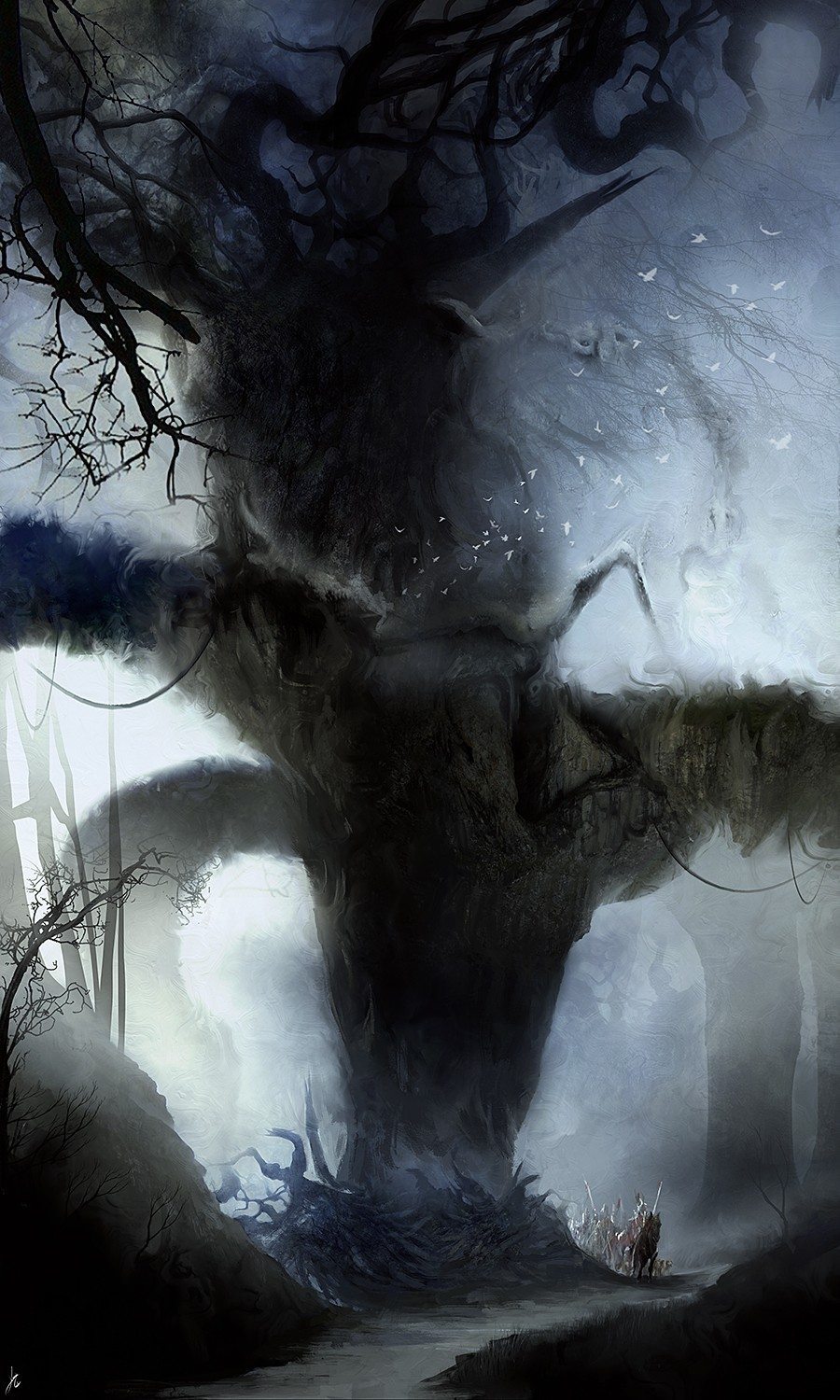 What are your favourite ArtRage features?
One of my favorite features is the ability to select your paper. It was by playing with this that I discovered how to create some nice effects while painting. I overlooked this feature when I started using ArtRage, but rediscovered it while playing with the iPad version. As I mentioned, amongst the available tools, the palette knife is one of my favorites. It was my favorite tool traditionally and it is my favorite tool in ArtRage with a good range of options to configure. This is another feature I like about ArtRage, how easy it is to store tool presets and keep them organized in folders/groups to come back to them.
Least used?
I haven't got into Stickers and Stencils yet. So I don't use them much. However they look promising, I just haven't got around to investigate how to use them.
There are things that I think could be improved. In particular, one that I think is important, is how to change the brush size. There is several things I don't like about how to change the size. One is the fact that it can't be made bigger past a given size. For some tools it would benefit to have them bigger. For example the airbrush. Also, it's difficult to select a given size. It's very jumpy. And with the wheel of a Cintiq, the change in size is not very smooth. Also, dragging the mouse over the tool size region only allows you to go to 100%, while using the wheel of the Cintiq allows you to get to much higher size values, like 500%. This is one part of the painting process that could be improved and be made more natural. I am, and I guess everyone, constantly changing the brush size, and it can become a bit of a pain sometimes not been able to do it fast and efficiently.
Editor's Note Holding Shift and dragging left or right on the canvas will let you smoothly change the brush size up to 500%. Pressing Ctrl +/Ctrl- will change the size in small increments.
¿Cuáles son sus características ArtRage favoritas?
Una de las opciones que más me gusta de ArtRage es el poder seleccionar el tipo de papel. Fue jugando con esa opción por la que descubrí que se pueden conseguir buenos efectos mientras se pinta. Cuando empecé a usar ArtRage deje de lado esta opción porque no me pareció útil, pero ahora me parece fundamental. Otra de las herramientas que me gusta y ya he mencionado, es la espátula. La espátula es la herramienta que mas me gustaba usar tradicionalmente y es de las que más me gusta usar digitalmente. Es muy configurable y los resultados muy buenos. Estas es otra de las cosas que me gusta de ArtRage, lo fácil que es configurar las distintas herramientas y salvarlas y organizarlas en carpetas o grupos para volver a ellas.
¿La menos utilizada?
Todavía no me he metido con Sticker y Stencils. Así que no los uso mucho. Sin embargo tienen buena pintas, simplemente no me ha dado tiempo a meterme con ellos.
Creo que hay cosas que se pueden mejorar. En particular hay una que creo que es importante, y es como cambiar el tamaño del pincel. Hay varias cosas que no me gustan sobre esto. Una, el hecho de que pasado un tamaño no se pueda hacer mas grande. Algunas herramientas se beneficiarían de poder tener un tamaño mayor, como por ejemplo el aerosol. También se hace complicado cambiar el tamaño en sí. Da saltos, y con la rueda de una Cintiq la transición de tamaño no es muy suave y se hace difícil establecer el tamaño que quieres. Cambiar el tamaño del la herramienta arrastrando el ratón con el botón derecho apretado es útil, pero solo te deja llegar hasta el 100% de tamaño. Con la rueda de una Cintiq puedes llegar a tamaños del 500%. Esta es una cosa que se podría mejorar y hacer que pintar sea más natural. Yo, e imagino que todo el mundo, cambio de tamaño la herramienta con muchísima frecuencia mientras pinto, y a veces puede ser un poco pesado no poder hacerlo rápido y eficientemente.
Nota del editor Presionando Shift y arrastrando hacia la izquierda o hacia la derecha en el lienzo sin problemas le permitirá cambiar el tamaño del pincel hasta el 500%. Al presionar Ctrl + / Ctrl cambiará el tamaño en pequeños incrementos.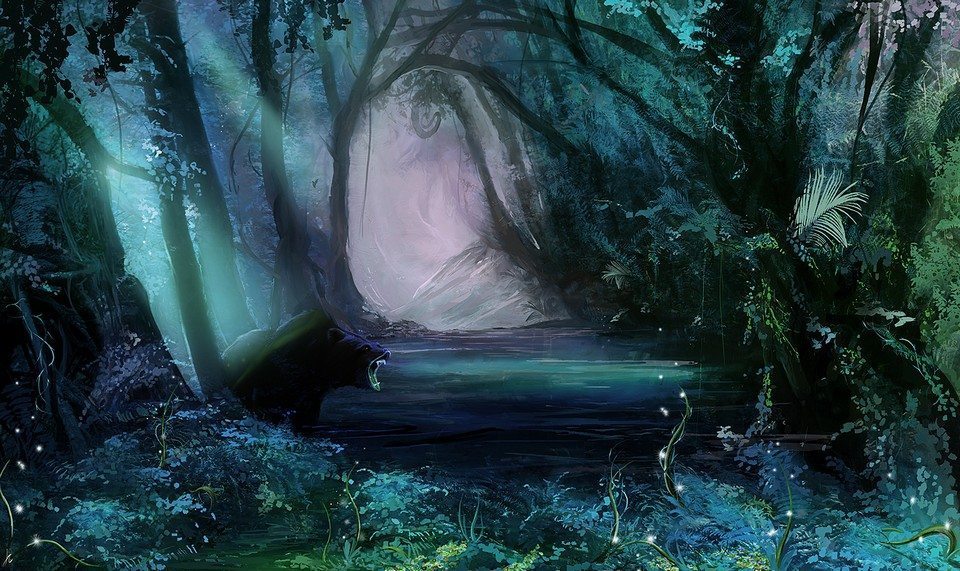 Do you have any tips for other artists who might want to do the same thing as you?
To paint a lot. I know everyone says the same thing, but it is true. The more you paint the more time you have to try new things and better chances of finding what you are good at and the tools that best suit you. So try everything you find around and have fun.
Any ArtRage specific tips?
Explore. In my case it worked great and I still find tool presets which produce great results. The fact that you can easily save them is a bonus. Every time I run into a setting I like I make sure I save it.
Would you recommend ArtRage for professional work?
Yes, I don't see why it could not be used professionally. I guess it would depend on the final look you want your work to have. If you are after a traditional feel, I think the software works great and the range of tools available and the configuration options is wide enough.
¿Tiene algún consejo para otros artistas que quisieran hacer lo mismo que usted?
Pintar mucho. Sé que es lo que todo el mundo dice, pero es cierto. Cuanto más pintes más tiempo tienes para probar cosas nuevas y mayores las probabilidades de que encuentres aquello en lo que eres bueno y de que encuentres las herramientas que mejor te van. Así que pruébalo todo y diviértete.
¿Algún consejo para ArtRage?
Explorar. En mi caso es lo que me ha funcionado, y lo que me sigue funcionando para descubrir resultados interesantes. El hecho de que se puedan salvar las configuraciones de las distintas herramientas es un bonus. Cada vez que doy con una configuración que me gusta la guardo.
¿Recomendaría ArtRage para el trabajo profesional?
Si, no veo porque no. No veo porque no se puede usar profesionalmente. Imagino que todo depende del resultado final que se esté buscando. Si lo que buscas es un acabado tradicional creo que el software funciona my bien y el abanico de herramientas y de configuración es suficientemente amplio.
See more features from our amazing ArtRage artists!
[fp_carousel width="940″ height="200″ items="5″ num="-1″ speed="600″ tag="artist-feature" orderby="rand" post_type="post"]