Free New Zealand Art Event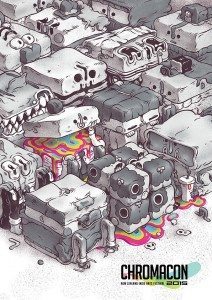 For anyone in Auckland, New Zealand this weekend, we highly recommend that you wander up to the Aotea Centre on Queen Street to check out an amazing art festival. First held in 2013, Chromacon is an artist-run event featuring New Zealand creative visual artists. Entrance is free, and ArtRage is very proud to help sponsor such an exciting convention featuring awesome local independent artists.
Drop in to check out a wide variety of amazing art, chat to local art schools and of course, come enter the art competition at the ArtRage stall.
Details:
Open from 10-5
Saturday and Sunday 18th-19th April
Aotea Centre, Queen Street
Entrance is free.

Find out more at http://www.chromacon.co.nz/