A tutorial series from Stephen Berry explaining how he achieves realistic watercolour effects in ArtRage.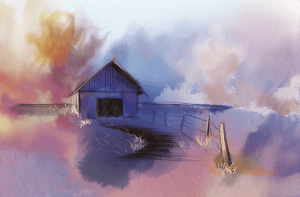 This is a series of videos explaining how to paint with watercolours in ArtRage and the various tricks and settings you can use to create realistic watercolour effects. The tutorials are for more advanced users, who already understand the basics of ArtRage.
The creator, Stephen Berry, is an experienced artist and ArtRage user who specialises in watercolours, both real world and digital. Known as Steve B in the forums, he can also be found at the blog Seamless Expression.
These tutorials are done in ArtRage Studio Pro, but will also apply to ArtRage Studio and ArtRage 4. Most of the tips will also work for iPad and Android users as well. The videos are generally about 10-15 minutes long, and the entire series is approximately 120 minutes long.
Disclaimer: These tutorials are unaffiliated with Ambient Design, other than the fact that they use our program. We sharing them because we think they're useful.
How to Paint with Watercolors in Artrage
Texture Overlays
The first video shows you how to import Texture Overlays and what they offer in terms of helping you create interesting ambient textures.
Dry Brush and Wet on Wet
This video covers dry brush techniques one can get by using the Layer Textures and various Brush Settings, as well wet into wet watercolor techniques one can achieve using the Lock Transparency feature.
Layers
In this video, he discusses how he uses layers in his painting process.
Brush Settings
Here, he explains the brush settings that he uses.
Blenders
How to use the Blending or Knife Tool with watercolours.
Custom Groups for Presets
This video explains how to make custom groups to help speed up your painting process.
Layer Masks and Glazing
Stephen goes over how to make Layer Masks in Artrage, and how to use them for Glazing techniques (the tutorial he mentions is My Method for Watercolors in ArtRage Studio Pro by SomeoneSane).
Sticker Sprays
This video discusses how to paint with Sticker Sprays to create various ambient effects, as well as how to make your own Presets and Sticker Spray Groups.
Stephen Berry is also the creator of the Pen Only Toolbar, an addon that provides a floating shortcut selection for tablet users of the desktop versions (disclaimer: it's old and not officially supported, but it is a pretty handy add on. Learn more about it in the forums).
For more help with using ArtRage, check out the ArtRage 4 Manual, the list of community tutorials or previous posts in the Tutorials category. And don't forget to check the FAQ section!

You can also drop by our Artrage Forums, or Contact our Tech Support directly.
[fp_carousel width="940″ height="200″ items="5″ num="-1″ speed="600″ cat="Tutorials" orderby="date" post_type="post"]