Learn how to Draw and Color in ArtRage Lite (Simple Line Art)
Create a simple illustration from sketch to color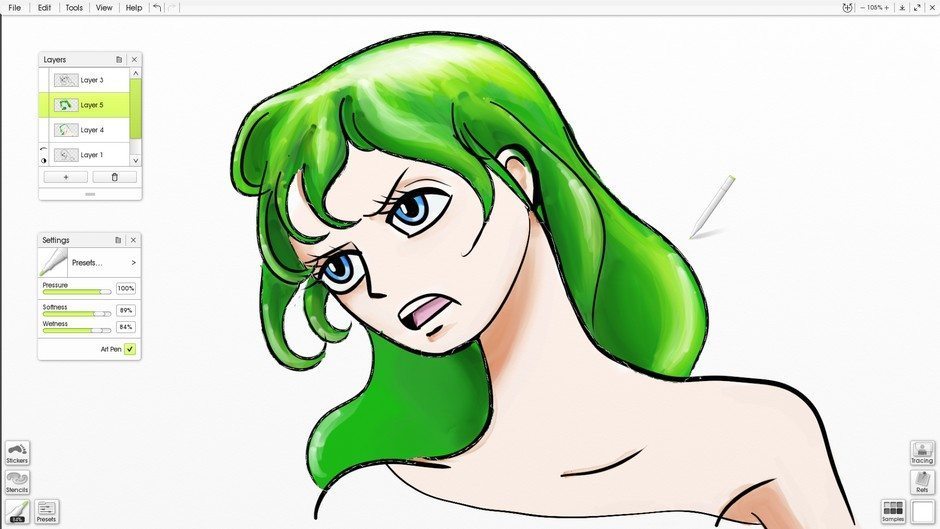 This video tutorial covers sketching, inking, coloring, stencils, selections, and basic canvas settings in ArtRage Lite, as well as the Fill Tool in ArtRage 5.
These videos are 3-5 minutes long, and the entire series is about half an hour. You can also watch the entire series as a single half hour video here.
---
Part 1: Sketching
Tips for sketching out your basic lines with the Pencil tool (or other tools). This step doesn't have to look pretty or use any particular tool, but it helps to know what the options are and find the settings that you are comfortable with.
Part 2 Canvas Settings
Knowing how to adjust the canvas settings in ArtRage Lite can be very useful, as the canvas often interacts with the drawing tools and creates effects that you might not want. Learn how to get a smooth canvas or get rid of any depth shadows or lighting gradients.
Part 3 Inking
Learn some tips for inking on a new layer with the Ink Pen, and transform your rough pencil sketch into a smooth line art ready for coloring. Download the free inking brushes shown in the video from this page.
Part 4 Masking with Stencils
Stencils can be used to mask areas of the canvas and make it much easier to color neatly. Learn how to create custom stencils and work with them in Lite.
Part 5 Coloring with Felt Pen
The Felt Pen allows you to mimic almost any kind of art marker and is a good choice for flat color that blends live as you work. Learn what the settings do and decide whether you want to use traditional Copic coloring techniques or just block in color more straightforwardly.
Part 6 ArtRage 5 Fill Tool
This section isn't part of the main tutorial, but it is here to demonstrate a few additional techniques and options (and point out some things that may have influenced the approach used when painting in Lite). ArtRage 5 offers many more features and settings, including a significantly smarter flood fill which has some very intimidating settings, but can make coloring and masking ten times faster.
Part 7 Selections and Gradient Effects
This video shows you a few additional options for masking and selections. You can use active selections instead of stencils to limit a specific area for coloring. Selections are more flexible, but can't be saved for later. You can also create gradient effects with both selections and stencils for subtle highlights and coloring techniques.

About ArtRage Lite
Learn more about ArtRage Lite.

ArtRage Lite Features
Compare ArtRage Lite and ArtRage 5

ArtRage 5
You can upgrade ArtRage Lite to ArtRage 5 for even more features!
More ArtRage Lite Posts
[fp_carousel width="940″ height="200″ items="5″ num="-1″ speed="600″ tag="artrage-lite" orderby="date" post_type="post"]
Back to Top