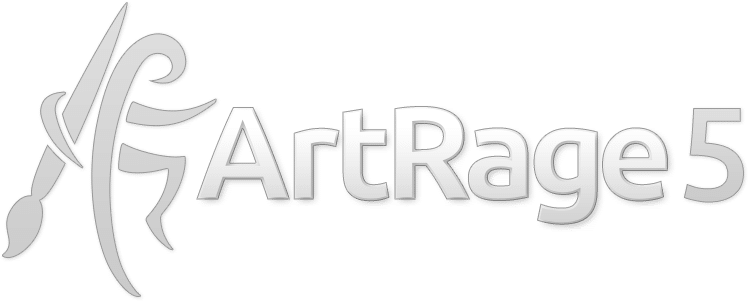 Coming Soon!
The Best ArtRage Edition Yet!
ArtRage 5 will be released in January 2017 and will replace ArtRage 4.
ArtRage 5 is the latest release from Ambient Design. It will be a full featured digital painting program for Windows and Mac OSX that brings together the convenience of digital editing tools, the realism of traditional paint texture and colors and the fun of creating art in one easy to use, professional level, program.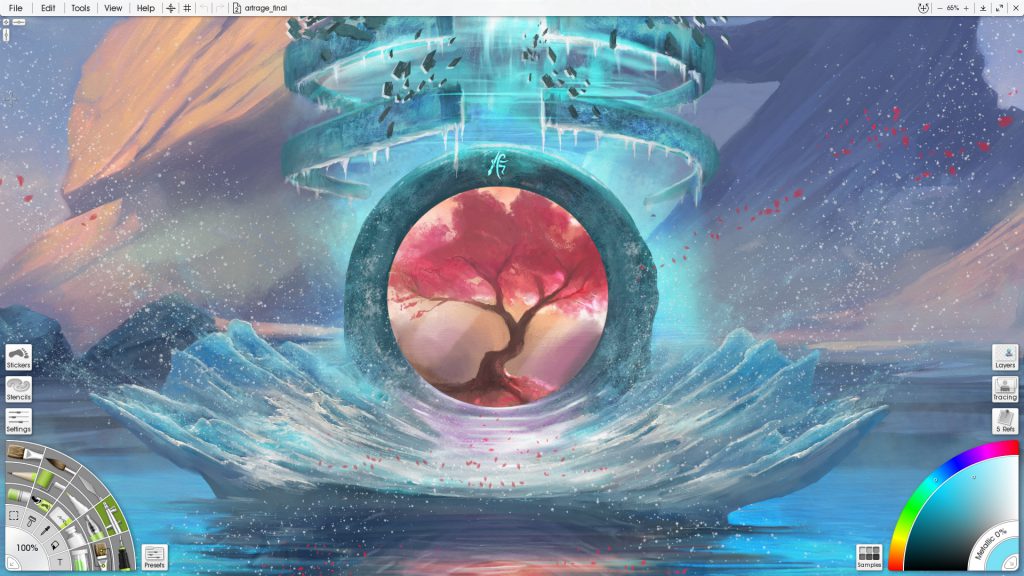 On This Page
New in ArtRage 5 (Overview)
Art & Screenshots
Win ArtRage 5!
Purchases & Upgrades
New Features List (Detailed)
Advance Video Reviews
New in ArtRage 5
ArtRage has come a long way since it was a free oil paint program back in 2007, and the release of ArtRage 5 in January 2017 completes its evolution into seriously awesome painting software.
ArtRage 5 preserves the rich traditional media effects and intuitive interface that makes ArtRage unique, but brings a whole new professional level to the design and feature set. Along with improved pencil and pastel, ArtRage 5 introduces an entirely new optional interface, perspective and layout guides, custom brush creation, warp mode, layer effects, and the ability to handle multiple documents. It's also faster and more stable than ever!
Upgrades
ArtRage Lite and ArtRage 4 are 50% off until the release of ArtRage 5, and all owners of older desktop versions are eligible for an upgrade discount. This allows people to secure a discount on the final price of ArtRage 5 if they own a licence before the release of ArtRage 5. More information about upgrades.
New Tools
ArtRage 5 comes with several major new editing and painting tools, including a custom brush designer, Perspective, Guides, and a much more realistic Pencil tool.
ArtRage 5 includes additional image editing effects allowing you to add highlights, dropshadows, emboss, and liquefy effects to a layer. This edition also offers improved speed and processing power, so ArtRage now performs even better at larger sizes and has more stable crash recovery.
Scroll further down for a full list of the new features!
Improved Interface
The entire interface has been redesigned to create a cleaner and more intuitive workspace. Along with a complete reworking of every icon and menu, ArtRage 5 includes the option of a sleek 'Docking' mode that allows you to fully customize your workspace with floating and docking panels. You can toggle the entire interface into 'Lights Out' which gives you dark menus and borders.
We've also added in workflow improvements like the ability to rotate your entire painting from the Edit menu, work with multiple documents at once, redesigned the way Transform works and better layer navigation.
ArtRage 5 Artwork
Send Us Your Art to Win ArtRage 5

Send in your ArtRage artworks for your chance to win ArtRage 5! You can use any version of ArtRage, and the ArtRage team will pick our five favourites to win a copy of ArtRage 5 when it is released. The contest ends January 10th, and you can send in up to three entries, so get painting!
If you don't feel like entering, but still want ArtRage 5, make sure to grab ArtRage 4 in the 50% off 'end of edition' sale to get the best overall discount on ArtRage 5 (all existing owners of ArtRage desktop editions get a massive upgrade discount).
ArtRage Videos
Tutorials, reviews, rambling explorations and experiments from advance reviewers with the beta versions of ArtRage 5.
Buying ArtRage 5
ArtRage 5 will be $79. ArtRage 5 offers performance and features found in far more expensive programs, but we believe in keeping our software as affordable as possible.
Purchasing ArtRage 5: ArtRage 5 can be purchased as a digital download through our online store. It will no longer be available through Steam (Steam users, please see this post about registering for the upgrade discount).
Licence: ArtRage 5 is a one off purchase and you will always be able to download the latest versions for both Mac OSX and Windows from our member area to any of your Windows or Mac OSX devices.
Upgrades: You can upgrade from older editions of ArtRage (2, 3 (Studio/Studio Pro), 4) at a 50% discount, or upgrade from ArtRage Lite at a 30% discount.
Buy ArtRage 4 before it goes and secure your discount on ArtRage 5!
ArtRage 4 and ArtRage Lite are 50% off until the release date of ArtRage 5. Any purchases made before the release date will be eligible for the upgrade discount, and you will pay less overall.
If you buy ArtRage 4 now and upgrade later, you will get a total 19% discount off the total price of ArtRage 5 (50% off the current price, 50% off ArtRage 5 later)
If you buy ArtRage Lite now and choose to upgrade later, you will get a total 11% discount off the total price of ArtRage 5 (50% off the current price, 30% off ArtRage 5 later).
You do not have to upgrade immediately, you can continue using your existing edition secure in the knowledge that you will get a guaranteed discount on ArtRage 5 when you choose to upgrade.
New & Improved Features for Professional Artists
ArtRage 5 has all the existing realistic and easy to use features from ArtRage 4, as well as some significant new tools and improvements.
Updated Tools
Pencil
Noise Amount
Noise Scale
Pastel (Wax/Chalk)
Noise Amount
Noise Scale
Fill (Flood fill)
[in development, features may change]
Slow Motion
Fill Small Gaps
Fill to Border (no pixelated edge)
Color Sampler
Sample average color from adjustable area (1-50 pixels)
Toggle Hue, Luminance, Saturation, Metallic when sampling
Transform
New fullscreen mode
Scale with active Perspective Sets
More precise control over transformations

Adjust angle and rotation by degree and percentage
Flip/rotate buttons
New Painting & Editing Tools
Custom Brush
Custom digital brushes for painting without texture
Wide range of presets
Downloadable resources from other users
Custom Brush Designer
Create custom brush heads and grain patterns
Editable dab properties and stroke properties
Color blending mode allows live paint mixing effects
Blenders
Single or randomized color options
Adjust effects of canvas texture;
Easily test brushes while adjusting settings
Layer Effects
Customizable Dropshadow, Emboss, Glow, Inner Glow, Cutout for individual text and paint layers
Custom embossing textures
Image Filtering
Remove Color Matte (easily clean up scanned sketches)
Warp (liquify)
Layout Tools
Grids, Guides, Perspective Sets

Customizable color, opacity and spacing
Adjustable snap to line sensitivity when drawing
Save custom sets

Guides
Drag horizontal and vertical lines for composition or as active rulers
Automatically frame paint on current layer
Quick shortcuts from main canvas view
Perspective Sets
One & Two Point Perspective
Drag horizon and vanishing point anywhere on or around the canvas
Edit individual lines, panels, and projection
Scale paint automatically with Transform to match perspective sets
Improved Interface
User Interface
Classic and Docking Modes

Classic:

Familiar ArtRage pods, intuitive layout, all tools easy to access


Docking (improved Workbench):

Clear-screen interface mode that hides all panels and presents a collapsed, customisable quick access bar with all the important features.
Customize and streamline your workspace with menus docked to right and left, or clear your screen entirely
Precise Color Picker option


Lights Out Mode
Updated icons and menu designs
Large & small layer thumbnail previews
Performance & Technical Requirements
File Handling
Improved saving process that reduces the chance of losing painting data from corruption and interrupted saves
Allows significantly larger canvas sizes
Easily rotate canvas from Edit menu
New documents use size of image on clipboard
Tablets & Touchscreens
Wintab, RealTime Stylus, AES Driver Support
Performance
Noticeably improved performance (smoother strokes, faster rendering, a more stable program and larger possible canvas sizes) on existing hardware
Operating Systems
Windows Vista, 7, 8 & 10
Mac OS 10.8 & later
ArtRage 5 does not have increased hardware requirements. Ideally, your computer should have 8GB+ RAM for best performance, but this will only affect the size of the canvases you can comfortably work with.
Languages:
English, French, German, Dutch, Spanish, Italian, Japanese, Russian
Back to Top

›

Buy ArtRage Lite: $14.90 (normally $29.90)
Buy ArtRage Lite to get started with realistic digital painting. Your payment is securely processed by our partner, Avangate.

Buy ArtRage 4: $24.90 (normally $49.90)
Buy ArtRage 4, our full desktop edition with natural painting tools and powerful digital editing features for all levels of skill.
Back to Top

›