Use different tools in ArtRage to get realistic ink brush and marker effects!
This tutorial demonstrates natural media inking settings for the Watercolor Brush, Oil Brush, Felt Pen, and Gloop Pen tools to help you choose the right tool for your style. Each tool is highly customizable, so pay close attention to the settings, and don't be afraid to tweak them!
Note: This tutorial focuses on the natural media brush and marker tools. If you want a much more digital effect, you want to use the Ink Pen (used for the writing) or Airbrush (not shown).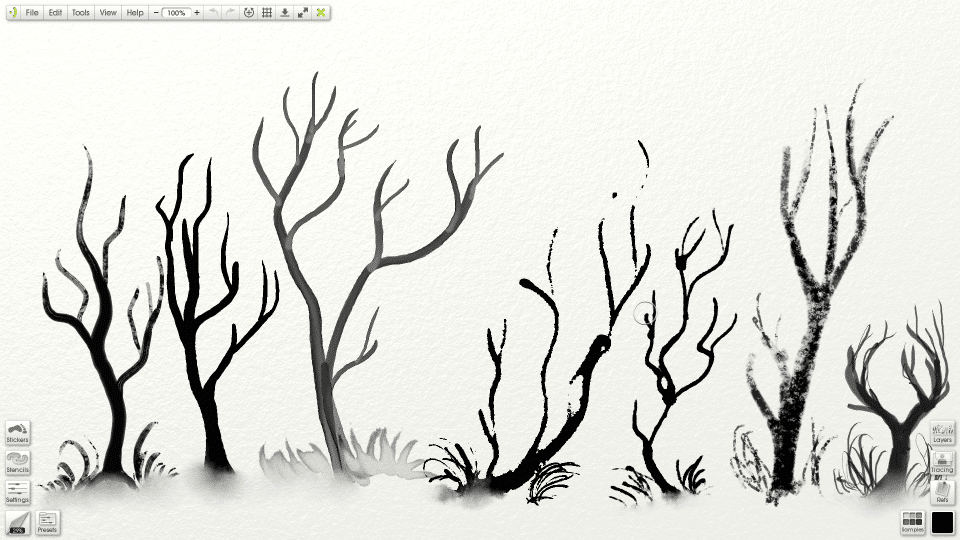 Settings & Presets
The screenshots below show all the tool settings in detail, but you can also just download ready made presets from the links below (we used a lot of these presets to put together this video). If you are using an older, or mobile, version of ArtRage, you can copy most of the settings directly from the video and create your own custom presets.
Click through the gallery for the individual tool settings
[justified_image_grid ng_gallery=25]
Watch the live painting process
Each tool feels very different, so it's worth trying them out yourself, or watching the video to see how it flows when you're actually using it.
Tip: The video repeats with the tool settings visible, and then shows you step by step screenshots. You can jump to the section that you want to watch. You can slow down the playback by clicking the YouTube settings shortcut in the bottom right of the video screen.
Part 1 (0.27) shows the painting process without any menus cluttering the screen
Part 2 (2.23) shows the painting process with the tool settings menu visible
Part 3 (4.35) shows step by step screenshots with tool settings
Software: ArtRage 4
Tools Used: Watercolor, Oil, Felt Pen, Gloop Pen, Palette Knife, Ink Pen
Music: www.youtube.com/user/CrazyEricTaylor
[fp_carousel width="940″ height="200″ items="5″ num="-1″ speed="600″ cat="Tutorials" orderby="date" post_type="post"]
For more help with using ArtRage, check out the ArtRage 4 Manual, the list of community tutorials or previous posts in the Tutorials category. And don't forget to check the FAQ section!
You can also drop by our Artrage Forums, or Contact our Tech Support directly.