An Interview With An ArtRage Artist
Jon Hodgson is a professional illustrator well known for his fantasy and RPG illustrations. He also published the very first digital art book that included ArtRage tutorials.

---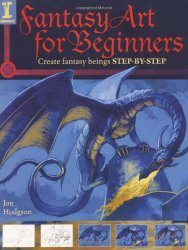 ArtRage Editions: ArtRage 4.5

Platforms: Mac OS 10.9

Background: Traditional Art

Websites:
www.jonhodgson.com
www.cubicle7.co.uk

Book: Fantasy Art For Beginners
Cover art for assorted fantasy RPG publications
Who are you? What do you want the internet to know about you?
I'm Jon Hodgson, I'm an art director and freelance artist living in Scotland.
I work primarily in the field of table top games – boardgames, card games, roleplaying games. I've been a full timer at this for 15 years now.

What kind of artist are you? (how would you describe your style and niche?)
I'm a commercial fantasy artist, known for textural, painterly work, in the last few of years mostly set in Middle-earth.
Do you come from a digital or traditional art background?
Traditional art in the first instance – I trained as a fine artist specialising in painting. Over my career as an illustrator I made the switch to digital media.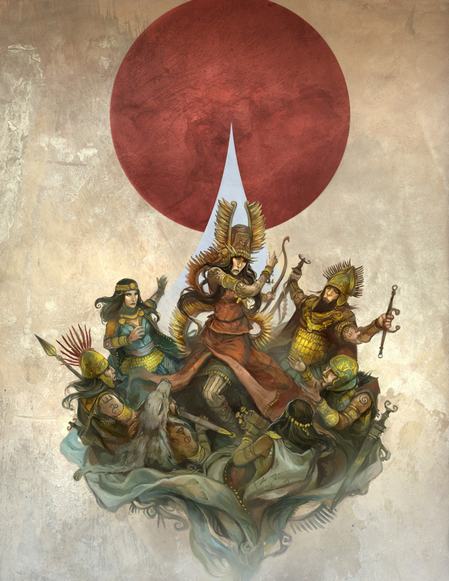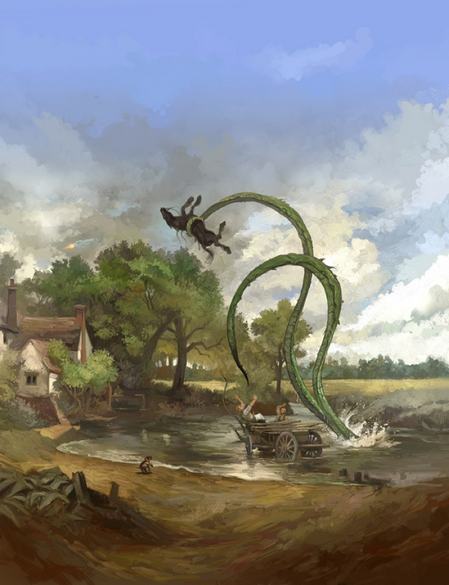 What edition(s) of ArtRage do you use?
ArtRage 4.5 thanks to Ambient Design, but for a longer time using ArtRage 4.
Do you use other programs or traditional media?
I still use pencils and paint, I also make use of Photoshop.
How long have you been using ArtRage?
Seriously, since ArtRage 2. But I dabbled for some time before that.
What ArtRage works or projects are you most proud of? Are they the ones everyone else likes? Tell us about them!
It's a tricky question. Because I use ArtRage every working day it's tough to pick.
I'll plump firstly for the cover to "Rivendell" for The One Ring roleplaying game. I think it's a nice change of pace compared to the average game cover.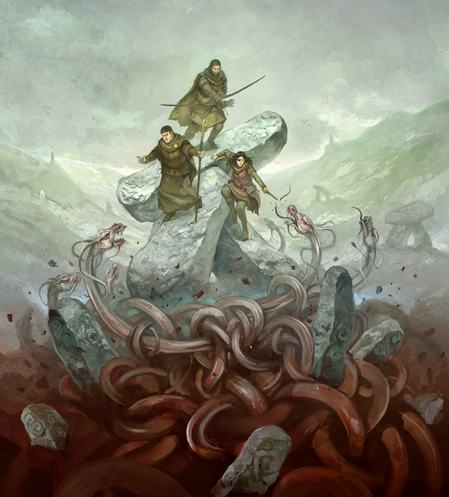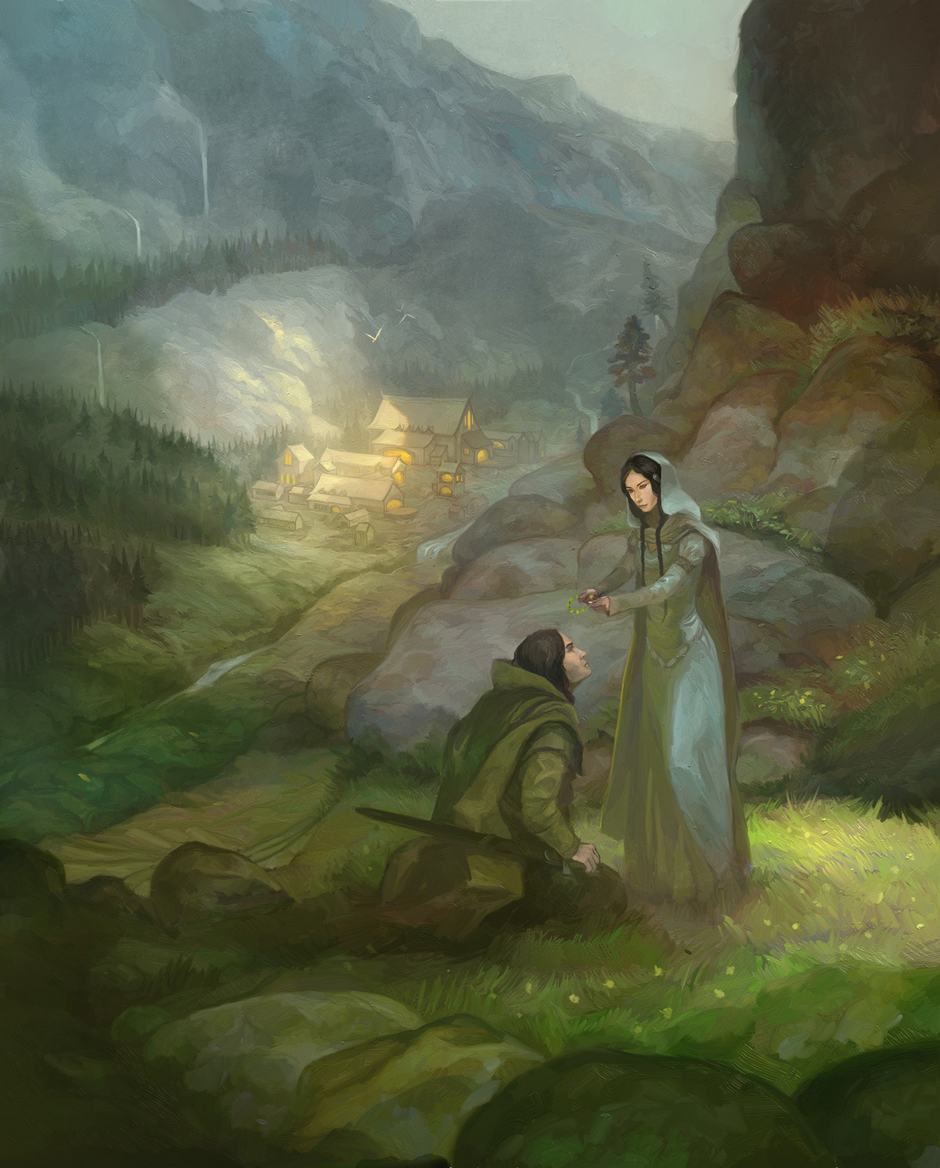 The second one is Mountains Boy. This was a personal piece, and I think it's probably my favourite piece I've ever made. I don't always have a lot to say in painting of any great worth, but I think this one said something, and I love hearing people's thoughts on what it's about. It's desperate and joyful, and I think that expresses something about me.

I'm not sure if these ones are more or less popular than other things I've made. In all honesty? I try to stay away from that kind of thinking for my long term sanity.
Why do you use ArtRage?
It's a very direct piece of software, and I really like the marks you can make with it, and its depth of flexibility with deceptively simple tools. The way those three basic sliders interact on the oils is a work of genius.
Where does ArtRage fit into your workflow? (e.g. do you use it for entire paintings or for specific points in the painting process?)
I'm about 50/50 on sketching in Artrage or Photoshop, with no particular practical reason for that decision. I'll do 90% of any painting in ArtRage, and export to a PSD for a last polish up in Photoshop where I check and tweak a few things for print purposes.
What are your favourite ArtRage features?
The oil brush. I use it the most by such a wide margin. I love the way it puts down colour, and the way colour mixes on the canvas.
Least favourite?
I don't make much use of the glitter. But I still quite like it.
Do you have any tips for other artists who might want to do the same thing as you?
Work hard, work smart. Read as much as you can about painting and painters. Look at the greats of history, not just your heroes in your own field. Draw from life. Paint with real paint as well as digital paint so that you can learn what real paint does and doesn't do.
This is a little more specific, but try to practice painting scenes with more than one character interacting. Think of the setting of your painting as a character in itself, not just as "the background". Have that setting completely engulf your characters and communicate with them.
Any ArtRage specific tips?
Tracing images are a real boon. Make a lightning fast colour sketch the same size as your intended final piece, and then use that as a tracing image to quickly lay down an underpainting. Also – spend some time in the ArtRage forums. The enthusiasm is infectious and humbling. There are a ton of great resources and tips there.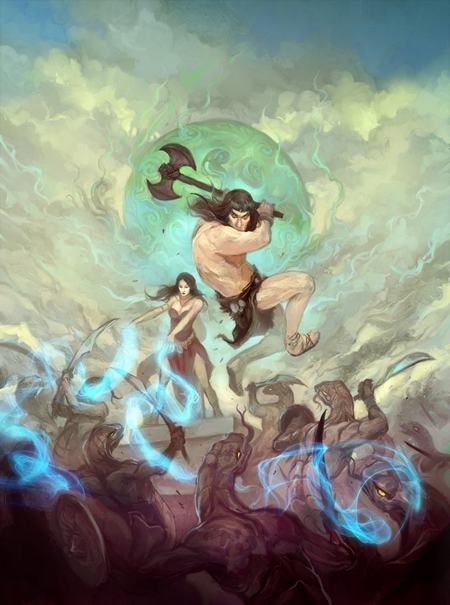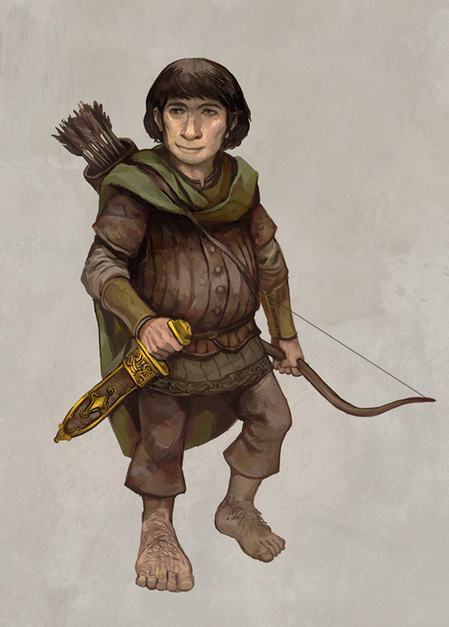 Any question(s) you wished we'd asked and would like to answer?: Is ArtRage suited to professional artwork?
I occasionally hear this. I think the lower price in comparison to other painting software makes some people assume that ArtRage isn't suitable for "pros". It is nonsense. Although ArtRage works differently to some other more well established "professional" art creation packages, it works very nicely thank you.

You can view more of Jon Hodgson's work at www.jonhodgson.com and www.cubicle7.co.uk
His DeviantART and Redbubble galleries are also worth a visit.
See more features from our amazing ArtRage artists!
[fp_carousel width="940″ height="200″ items="5″ num="-1″ speed="600″ tag="artist-feature" orderby="rand" post_type="post"]