[random-image attachmentids="9163″]

ArtRage is great educational software for schools
Get A Quote
We offer bulk purchase & educational discounts. Just contact us with your details for a quote!
You can also buy individual licences directly from us.
Using ArtRage with Ages 5-18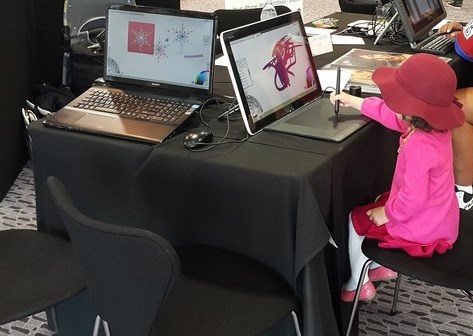 ArtRage is a very accessible and easy to learn art program. It's also a lot of fun, so children and young adults will enjoy experimenting with it.
ArtRage replaces the need for a large stock of traditional media, and it completely avoids paint all over the tablet or crayon on the carpet. If you're a parent or a teacher, you probably know just how much mess a child can make far too well.
Kids generally enjoy the Glitter, Gloop pen, Sticker Spray tools, Stencils and tracing features, as well as the ability to mix up and erase paint. The best way to get the started is just to point out the Oil brush, get them to pick a colour, then get them to mix in another colour – they can usually take it from there!
ArtRage Intel For Education
ArtRage is recommended by Intel's Education program, which also suggests some example lesson plans that incorporate ArtRage in Math, Art and Science.

Features and Benefits

Sophisticated functionality simulates real-world art tools.
Easy-to-use and intuitive interface.
Powerful tools unlock students' creativity.
Useful at all grade levels—students can start at the finger-painting level and build sophistication.
Inexpensive—with no recurring supply costs, teachers can afford to engage encourage students' artistic endeavors, even as many art programs are being underfunded or cut.
Students can use the tool to illustrate their writing or draw diagrams for reports.
Require zero set-up and clean-up time.

Some other fantastic projects we've seen from schools include:
Normal art lessons, using digital art to expand skills, or replace the need to provide physical media
Video animation (draw in ArtRage, animate elsewhere)
Basic familiarisation with technology using a fun, non-threatening interface
Group art projects (it's much easier to share and edit digital files)
Learning about digital image editing
Creating illustrations for reports and projects
Back to Top