[random-image attachmentids="2349, 2350, 2351, 2352, 2353, 2354, 2355, 2356, 2357″]

Exciting News!
April 13th 2021
Our premium painting app ArtRage Vitae Mobile is now available via the Appstores from Apple, Google and Amazon.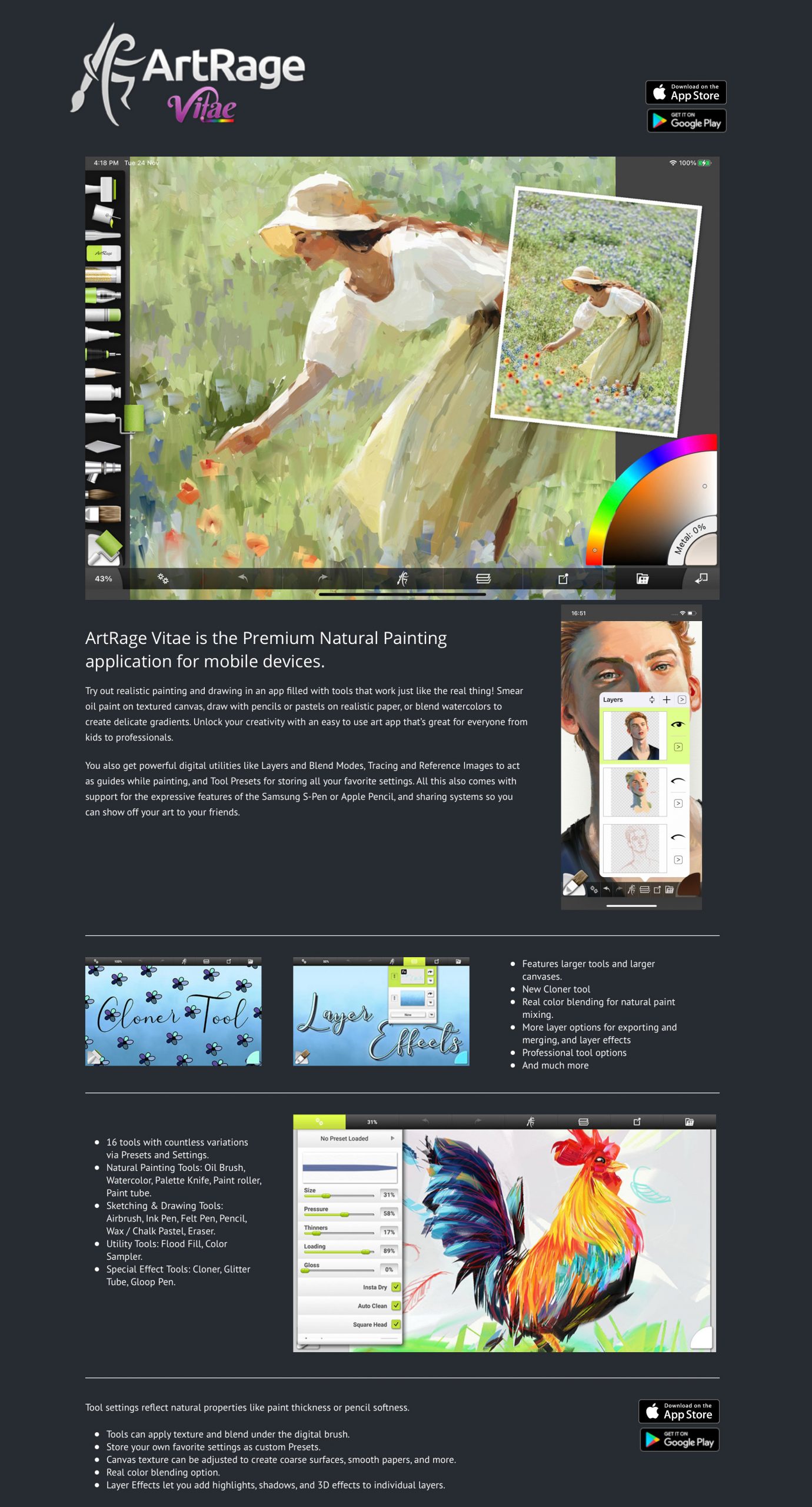 ---
Ambient Design launches ArtRage for iPad 2.0
October 2015

A Powerful and Realistic Painting App for the iPad
ArtRage for iPad 2.0 was released Monday 5th October, 2015. It included major speed and stability improvements, as well as a range of new features, additional stylus support, and full support for iOS9. It is available through the iTunes App Store.
ArtRage for iPad is our main iOS app. Designed as a fully featured stand-alone painting and drawing app, it includes the full range of real media painting tools from ArtRage 4, standard digital features such as Fill, Transform and Layers, unlimited undo, highly customisable and realistic canvas textures, import and export support to and from other apps, and ArtRage's popular tracing and references system.
It can also act as a complementary mobile sketch app for desktop users. ArtRage for iPad's painting files are fully compatible with the desktop programs ArtRage 4 and ArtRage Lite, and the script recording feature allows artists to replay their works at any resolution in ArtRage 4.
iPad Pro & Apple Pencil Support
ArtRage fully supports the Apple Pencil and iPad Pro, offering 4K canvases, pressure, tilt, and responsive brush strokes.
Downloads
ArtRage for iPad 2 Manual and Quick Start Guide
Quotes
'I'm excited with how the gallery is now easy to manage and you can group your paintings […] I believe people should get it and explore it, there's lots to be excited about in this version.'
'I have really enjoyed the speed and somewhat better layout of the Gallery and I've been playing around with the glitter brush.'
Major Features
Tools
High quality rendered strokes show the amount of paint on the canvas, letting you play with texture as well as color.
Oil Brush with paint thickness and smearing.
Watercolor with fluid dynamics to simulate stroke blending and spreading.
Airbrush with soft color spray.
Palette Knife for spreading and blending pigment.
Paint Roller & Tube for laying down thick coats of paint.
Inking Pen with auto-smoothing and pressure simulation.
Pencil & Marker Pen, Chalk & Crayon and Eraser for drawing and sketching.
Flood Fill.
Settings for fine control of each tool and custom tool presets for storing favorites.

Layers:
Unlimited layers with available memory.
Improved color blending.
Easy to save incremental copies.
Blend Modes, including Photoshop standards, ArtRage Bump (texture) Blend Modes and Watercolor Blend Mode
Easy access to visibility/opacity.

Utilities:
Unlimited Undo/Redo.
Reference & Tracing Images to help you as you paint.
Unlimited color samples.
Transform layer contents and transform locks
Script recording feature allows painting playback on the desktop
User friendly tracing and reference images

Stylus Support:
Support for Adobe Ink, Adonit Jot Touch, Pogo Connect and Wacom Bluetooth styluses
Palm Rejection

Image Sharing
ArtRage for iPad allows users to share PNG, JPEG and PTG files to artist communities and social media sites, like PEN.UP, deviantArt, Facebook, Twitter, and Flickr, as well as send art by email or save to Dropbox. It also allows direct import to individual layers, or the ability to create a new painting from an imported image.

Languages:
English
Dutch
French
German
Italian
Japanese
Spanish
Images
Tools and Workspace
Click to download.
Promotional Paintings
Demo and promotional images using ArtRage for iPad by Bo Paweena, Edward Ofosu, Helene Goldberg and Sav Scatola. Please include credits when sharing!
ArtRage for iPad Manual
The advanced online manual can be accessed here: www.artrage.com/manuals/artrage-mobile-editions/artrage-ipad

The built-in quickstart guide can be seen in the screenshots below.
[justified_image_grid ng_gallery=13]
ArtRage Logo: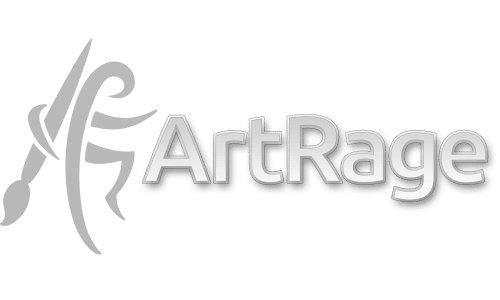 ArtRage PNG: ARLogo_small_transparent1.png

ArtRage for iPad PNG: ARLogo-iPad.png
General Information
About Ambient Design Ltd.
Ambient Design Ltd. is a New Zealand-based global software development and publishing firm, specializing in creative applications and user interfaces for artists of all ages and all levels of competency, including professionals, hobbyists and students. The principals have over 40 years' experience in combining complex image processing algorithms with an easily accessible user experience. Ambient Design Ltd. was founded in 2000 by Andy Bearsley and Matt Fox-Wilson, formerly of MetaCreations, the developer of Painter, Bryce and Kai's Power Tools. Ambient Design's products are available in up to 14 languages and have been downloaded over 30 million times across various platforms.
For more information, see Artrage.com.
About ArtRage
ArtRage is also available for Mac and Windows and is compatible with Wacom styluses. ArtRage 4.5 for Mac and Windows is priced at $49.90 from the ArtRage Store. ArtRage for iPad and ArtRage for iPhone are priced at $4.99 and $1.99 respectively from the Apple iTunes Store. ArtRage for Android is priced at $4.99 from the Google Play Store and Samsung Galaxy Apps.
For more information, see www.artrage.com, Facebook: www.facebook.com/artrage, or Twitter: @ArtRage https://twitter.com/ArtRage.
Videos: Youtube – ArtRageTV
Press Contact & More Information